---
The Smurfs 2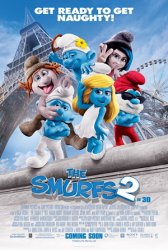 Starring: Neil Patrick Harris, Brendan Gleeson, Jayma Mays, Katy Perry, Hank Azaria
Director: Raja Gosnell
Release Date:

July 31st, 2013
Release Date:

31st July, 2013
Running Time: 105 Mins
Synopsis: The Smurfs team up with their human friends to rescue Smurfette, who has been kidnapped by Gargamel since she knows a secret spell that can turn the evil sorcerer's newest creation - creatures called the Naughties - into real Smurfs.
Status:
The Smurfs 2 Movie Trailer
About the Movie
The Smurfs 2 is a 2013 American 3D family comedy film and a sequel to the 2011 film The Smurfs. Based on The Smurfs comic book series created by the Belgian comics artist Peyo. It will be the second installment of the The Smurfs trilogy, produced by Sony Pictures Animation and distributed by Columbia Pictures. The film is being directed again by Raja Gosnell, with all the main cast returning. New cast includes Christina Ricci and J. B. Smoove as members of the Naughties, and Brendan Gleeson as Patrick Winslow's stepfather. The film is set for release on July 31, 2013. The third film is scheduled to be released on July 24, 2015. This is Jonathan Winters' final film after his death on April 11, 2013.
---
'The Smurfs 2' Stars
Brendan Gleeson, Hank Azaria, Jayma Mays, Katy Perry, Neil Patrick Harris, Raja Gosnell
---
'The Smurfs 2' Movie Links

The Smurfs 2 on IMDb


The Smurfs 2 on Wikipedia