---
The Tree of Life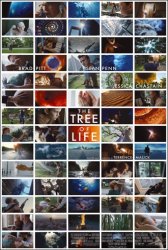 Starring: Brad Pitt, Sean Penn, Jessica Chastain, Hunter McCracken, Laramie Eppler, Tye Sheridan
Director: Terrence Malick
Release Date:

July 8th, 2011
Release Date:

8th July, 2011
Running Time: 139 Mins
Synopsis: The impressionistic story of a Texas family in the 1950s. The film follows the life journey of the eldest son, Jack, through the innocence of childhood to his disillusioned adult years as he tries to reconcile a complicated relationship with his father. Jack finds himself a lost soul in the modern world, seeking answers to the origins and meaning of life while questioning the existence of faith.
Status:
titlexxx - The Tree of Life Movie Trailer
About the Movie
The Tree of Life is a 2011 American drama film written and directed by Terrence Malick, and starring Brad Pitt, Sean Penn and Jessica Chastain. Malick's film chronicles the origins and meaning of life through the eyes of a 1950s Texas family, while also featuring themes and imagery through space and the birth of life on Earth. The film premiered in competition at the 2011 Cannes Film Festival and won the Palme d'Or, after being in development by Malick for decades, and experiencing a delay from its original release in late-2009. It later opened in limited release on May 27, 2011 to positive reviews on its technical and artistic merits, yet also received polarizing reactions in response to Malick's directorial style and, in particular, with the film's fragmented and non-linear narrative.
---
'The Tree of Life' Stars
Brad Pitt, Hunter McCracken, Jessica Chastain, Laramie Eppler, Sean Penn, Terrence Malick, Tye Sheridan
---
'The Tree of Life' Movie Links

The Tree of Life on IMDb


The Tree of Life on Wikipedia