---
Transformers: Revenge of the Fallen (2009)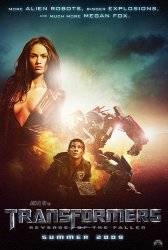 Starring: Shia LaBeouf, Megan Fox, Rainn Wilson, John Turturro, Josh Duhamel, Tyrese Gibson, Isabel Lucas, Jennifer Alden
Director: Michael Bay
Release Date:

June 24th, 2009
Release Date:

19th June, 2009
Synopsis: A youth chooses manhood. The week Sam Witwicky starts college, the Decepticons make trouble in Shanghai. A presidential envoy believes it's because the Autobots are around; he wants them gone. He's wrong: the Decepticons need access to Sam's mind to see some glyphs imprinted there that will lead them to a fragile object that, when inserted in an alien machine hidden in Egypt for centuries, will give them the power to blow out the sun. Sam, his girlfriend Mikaela, and Sam's parents are in danger. Optimus Prime and Bumblebee are Sam's principal protectors. If one of them goes down, what becomes of Sam?
Status:
Transformers: Revenge of the Fallen Movie Trailer
Transformers: Revenge of the Fallen Teaser Trailer
About the Movie
Transformers: Revenge of the Fallen is an upcoming science fiction/action film due for release on June 24, 2009. It is the sequel to 2007′s Transformers, which was the first live action Transformers film. Michael Bay and Steven Spielberg return respectively as director and executive producer, while Shia LaBeouf reprises the role of Sam Witwicky, the human caught in the war between Autobots and Decepticons. The film introduces many more robots and the scope has been expanded to numerous countries, the most important of which is Egypt.
The main hurdle in getting the film produced was overcoming the 2007–2008 Writers Guild of America strike, as well as possible strikes by the Directors Guild of America and the Screen Actors Guild. Bay finished his production on time with the help of previsualization and a scriptment by his writers Roberto Orci, Alex Kurtzman, and series newcomer Ehren Kruger. Shooting from May to November 2008 predominantly took place in the United States, including the majority of scenes set in outside countries, a minimum of which was conducted in those actual nations.
---
'Transformers: Revenge of the Fallen' Stars
Isabel Lucas, Jennifer Alden, John Turturro, Josh Duhamel, Megan Fox, Michael Bay, Rainn Wilson, Shia LaBeouf, Tyrese Gibson
---
'Transformers: Revenge of the Fallen' Movie Links

Official Transformers: Revenge of the Fallen Movie Website


Transformers: Revenge of the Fallen on IMDb