---
Where the Wild Things Are (2009)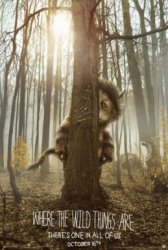 Starring: Catherine Keener, Max Records, Mark Ruffalo, Lauren Ambrose, James Gandolfini, Catherine O'Hara, Forest Whitaker
Director: Spike Jonze
Release Date:

October 16th, 2009
Release Date:

11th December, 2009
Synopsis: Where the Wild Things Are follows the imaginary adventures of a young boy named Max, who is angry when his mother, Connie, invites her boyfriend over. After causing one mischievous antic after another, he is sent to his room without supper. Feeling angry and unloved, he then creates a forest bordering a massive ocean, and sails away to an island inhabited by seven imaginary monsters called the Wild Things. Max wears a distinctive wolf costume during his adventures and encounters various strange creatures on his jouney. Max is loved by the wild creatures who make him their King, although he soon longs to be back home with his family again and wants to return home. Based on Maurice Sendak's classic book, "Where the Wild Things Are," and although just ten sentences long, the book is generally regarded as a masterpiece of American illustrated children's literature.
Status:
Where the Wild Things Are Movie Trailer
About the Movie
Where the Wild Things Are is an upcoming 2009 fantasy film by Spike Jonze. It is a live-action adaptation of the Maurice Sendak 1963 children's book of the same name. The film combines live action, suitmation, animatronics, and CGI. Its release is currently scheduled for October 16, 2009.
---
'Where the Wild Things Are' Stars
Catherine Keener, Catherine O'Hara, Forest Whitaker, James Gandolfini, Lauren Ambrose, Mark Ruffalo, Max Records, Spike Jonze
---
'Where the Wild Things Are' Movie Links

Official Where the Wild Things Are Movie Website


Where the Wild Things Are on IMDb