---
13 Assassins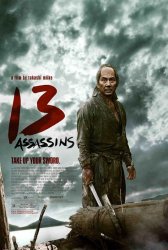 Starring: Kôji Yakusho, Takayuki Yamada, Hiroki Matsukata, Kazuki Namioka, Tsuyoshi Ihara
Director: Takashi Miike
Release Date:

6th May, 2011
Running Time: 141 Mins
Synopsis: In the era of the Shogun, an evil young lord rapes and kills, assured of immunity by law. But he didn't count on the Thirteen Assassins. A feared secret force, each with their own deadly skill, the Assassins undertake a suicide mission to wipe out the Lord. As he embarks on a perilous journey, the Assassins close off his escape route and ambush him in a village of death. But little do they know, they are outnumbered four to one by the Lord's crack team of bodyguards.
Status:
titlexxx - 13 Assassins Movie Trailer
About the Movie
13 Assassins is a 2010 Japanese jidaigeki film directed by Takashi Miike, known for his ultra-violent work in the horror genre.
A samurai epic based on a true incident, the film was produced by Japanese producer Toshiaki Nakazawa, who won the 2009 Academy Award for Best Foreign Language Film for Departures. It was executive-produced by Jeremy Thomas, a British producer with a reputation for breaking Asian titles into the international market, most notably Bernardo Bertolucci's nine-time Oscar winner The Last Emperor, Nagisa Ôshima's Merry Christmas, Mr Lawrence and Takeshi Kitano's Brother.
The film is a remake of Eiichi Kudo's 1963 black-and-white Japanese film of the same name, Jûsan-nin no shikaku. The screenplay was written by Daisuke Tengan.
It stars Koji Yakusho, whose credits include Memoirs of a Geisha and Shall We Dance, along with Takayuki Yamada, Hiroki Matsukata, and Kazuki Namioka.
It's nominated for Best Film at the 34th Japan Academy Prize.
---
'13 Assassins' Stars
Hiroki Matsukata, Kazuki Namioka, Kôji Yakusho, Takashi Miike, Takayuki Yamada, Tsuyoshi Ihara
---
'13 Assassins' Movie Links

Official 13 Assassins Movie Website


13 Assassins on IMDb


13 Assassins on Wikipedia