---
44 Inch Chest (2009)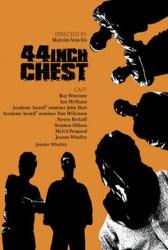 Starring: John Hurt, Ray Winstone, Ian McShane, Tom Wilkinson, Joanne Whalley, Dave Legeno, Stephen Dillane
Director: Malcolm Venville
Release Date:

January 15th, 2010
Release Date:

15th January, 2010
Synopsis: Colin is in agony, shattered by his wife's infidelity. However, he has friends who do more than stand by – they kidnap the wife's French lover and hold him prisoner so that Colin can restore his manhood with revenge. A kangaroo court takes place and as the situation escalates Loverboy's life hangs in the balance as Colin wrestles with revenge, remorse, grief and self pity, all the while egged on by his motley crew of friends who just want him to get on with it so they can get down the pub.
Status:
44 Inch Chest Movie Trailer
About the Movie
44 Inch Chest is a British gangster film starring Ray Winstone, John Hurt, Tom Wilkinson and Ian McShane to be released on 29 January, 2010. The script was written by Louis Mellis and David Scinto, who wrote another British gangster drama Sexy Beast, and produced by Richard Brown and Steve Golin (Babel, Eternal Sunshine of the Spotless Mind). It is the debut feature from British commercial director and photographer Malcolm Venville. The cinematography is by Daniel Landin. The score is a collaboration between Angelo Badalamenti and Massive Attack.
---
'44 Inch Chest' Stars
Dave Legeno, Ian McShane, Joanne Whalley, John Hurt, Malcolm Venville, Ray Winstone, Stephen Dillane, Tom Wilkinson
---
'44 Inch Chest' Movie Links

Official 44 Inch Chest Movie Website


44 Inch Chest on IMDb