---
Eternal Sunshine of the Spotless Mind (2004)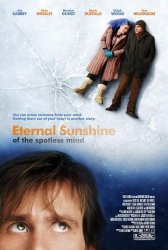 Starring: Jim Carrey, Kate Winslet, Kirsten Dunst, Mark Ruffalo, Elijah Wood, Tom Wilkinson
Director: Michel Gondry
Release Date:

March 19th, 2004
Release Date:

30th April, 2004
Synopsis: Joel is stunned to discover that his girlfriend Clementine has had her memories of their tumultuous relationship erased. Out of desperation, he contracts the inventor of the process, Dr. Howard Mierzwaik, to have Clementine removed from his own memory. But as Joel's memories progressively disappear, he begins to rediscover their earlier passion. From deep within the recesses of his brain, Joel attempts to escape the procedure. As Dr. Mierzwiak and his crew chase him through the maze of his memories, it's clear that Joel just can't get her out of his head.
Status:
Eternal Sunshine of the Spotless Mind Movie Trailer
About the Movie
Eternal Sunshine of the Spotless Mind is a 2004 American psychological-drama film by director Michel Gondry. The film uses elements of science fiction, nonlinear narration and neosurrealism to explore the nature of memory and romantic love. It opened in North America on March 19, 2004 and grossed over US$70 million worldwide.
Gondry worked on the story with writer/director Charlie Kaufman and Pierre Bismuth, a French performance artist. Together, they won an Academy Award for Best Original Screenplay in 2005, alongside a nomination for Kate Winslet for Best Actress that year. The film stars Jim Carrey and Kate Winslet and features Kirsten Dunst, Mark Ruffalo, Tom Wilkinson, Elijah Wood, Jane Adams, and David Cross.
The title is taken from the poem Eloisa to Abelard by Alexander Pope, the story of a tragic love affair, where forgetfulness became the heroine's only comfort.
The film became a critical and commercial success, developing a strong cult following and receiving myriad accolades, even well after its release. The film was lauded by critics as one of the best films of 2004, and, in recent lists, has been acclaimed as one of the best films of the decade.
---
'Eternal Sunshine of the Spotless Mind' Stars
Elijah Wood, Jim Carrey, Kate Winslet, Kirsten Dunst, Mark Ruffalo, Michel Gondry, Tom Wilkinson
---
'Eternal Sunshine of the Spotless Mind' Movie Links

Official Eternal Sunshine of the Spotless Mind Movie Website


Eternal Sunshine of the Spotless Mind on IMDb