---
Adventureland (2009)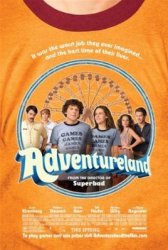 Starring: Jesse Eisenberg, Kristen Stewart, Martin Starr, Bill Hader, Kristen Wiig, Margarita Levieva, Ryan Reynolds
Director: Greg Mottola
Release Date:

April 3rd, 2009
Release Date:

11th September, 2009
Synopsis: In 1987, James Brennan's dreams of a summer European tour before studying at an Ivy League school in New York City are ruined after his parents have a severe career setback. As a result, James must get a summer job to cover his upcoming expenses at the decrepit local amusement park, Adventureland, where he falls in love with a witty co-worker, Emily Lewin. In that bizarrely shady workplace, the young carnies have unforgettable and painful learning experiences about life, love and trust while James discovers what he truly values.
Status:
Adventureland Movie Trailer
About the Movie
Adventureland is a 2009 comedy-drama film written and directed by Greg Mottola, director of Superbad. The film stars Jesse Eisenberg, Kristen Stewart, Margarita Levieva, Ryan Reynolds, Martin Starr, Bill Hader, and Kristen Wiig.
---
'Adventureland' Stars
Bill Hader, Greg Mottola, Jesse Eisenberg, Kristen Stewart, Kristen Wiig, Margarita Levieva, Martin Starr, Ryan Reynolds
---
'Adventureland' Movie Links

Official Adventureland Movie Website


Adventureland on IMDb