---
MacGruber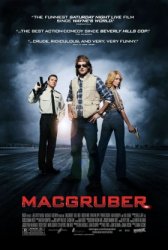 Starring: Will Forte, Kristen Wiig, Ryan Phillippe, Val Kilmer, Powers Boothe, Maya Rudolph
Director: Jorma Taccone
Release Date:

May 21st, 2010
Release Date:

18th June, 2010
Synopsis: Only one American hero has earned the rank of Green Beret, Navy SEAL and Army Ranger. Just one operative has been awarded 16 purple hearts, 3 Congressional Medals of Honor and 7 presidential medals of bravery. And only one guy is man enough to still sport a mullet.
Status:
About the Movie
MacGruber is a 2010 American action comedy film based on the Saturday Night Live sketch of the same name. The character of MacGruber is a satire on MacGyver, the 1980s spy who made escape objects from common things. The film stars Will Forte in the title role, Kristen Wiig as his love interest/partner, Vicki St. Elmo, Ryan Phillippe as Dixon Piper, a young lieutenant who becomes part of MacGruber's team, Val Kilmer as the aptly named villain, Dieter von Cunth, and Maya Rudolph as the flashbacks and ghost of MacGruber's dead wife, Casey.
The film was released on May 21, 2010, after being pushed from its original April 23 date.
---
'MacGruber' Stars
Jorma Taccone, Kristen Wiig, Maya Rudolph, Powers Boothe, Ryan Phillippe, Val Kilmer, Will Forte
---
'MacGruber' Movie Links

MacGruber on IMDb