---
Alice in Wonderland (2010)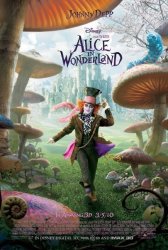 Starring: Johnny Depp, Anne Hathaway, Helena Bonham Carter, Michael Sheen, Mia Wasikowska, Matt Lucas
Director: Tim Burton
Release Date:

March 5th, 2010
Release Date:

5th March, 2010
Synopsis: Tim Burton attempts to work his gothic magic over one of the best loved stories of all time… Lewis Carroll's 'Alice In Wonderland' and 'Through the Looking Glass and What Alice Found There', which first told the story of a young girl, who after following a rabbit down a hole, is transported to a strange world. Whilst the disney version of the tale relied on sweetness and light to delight the audience, Burton fans can be sure to look out for the same cartoon traits as earlier masterpiece 'The Nightmare Before Christmas'.
Status:
Alice in Wonderland Movie Trailer
About the Movie
Alice in Wonderland is a 2010 fantasy adventure film directed by Tim Burton, written by Linda Woolverton, and starring Mia Wasikowska, Johnny Depp, Helena Bonham Carter, Anne Hathaway, Crispin Glover, Michael Sheen and Stephen Fry and released by Walt Disney Pictures. It is an extension of Lewis Carroll's novels Alice's Adventures in Wonderland and Through the Looking-Glass. The film uses a technique of combining live action and animation.
In the film, Alice is now nineteen years old and accidentally returns to Underland (misheard by Alice and believed to be called Wonderland), a place she visited thirteen years previously. She is told that she is the only one who can slay the Jabberwocky, a dragon-like creature controlled by the Red Queen who terrorizes Underland's inhabitants. Burton said the original Wonderland story was always about a girl wandering around from one weird character to another and he never felt a connection emotionally, so he wanted to make it feel more like a story than a series of events. He does not see this as a sequel to previous films, nor as a re-imagining.
It premiered in London at the Odeon Leicester Square on February 25, 2010, and was released in Australia on March 4, 2010, and the United States and the United Kingdom on March 5, 2010, through IMAX 3D and Disney Digital 3D, as well as in traditional theaters. In addition to being Burton's most financially-successful film, it is currently the highest grossing film of 2010 as well as the sixth highest-grossing film of all time.
---
'Alice in Wonderland' Stars
Anne Hathaway, Helena Bonham Carter, Johnny Depp, Matt Lucas, Mia Wasikowska, Michael Sheen, Tim Burton
---
'Alice in Wonderland' Movie Links

Official Alice in Wonderland Movie Website


Alice in Wonderland on IMDb