---
Aliens in the Attic (2009)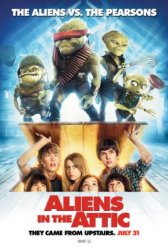 Starring: Ashley Tisdale, Robert Hoffman, Andy Richter, Doris Roberts, Austin Robert Butler, Kevin Nealon
Director: John Schultz
Release Date:

July 31st, 2009
Release Date:

12th August, 2009
Synopsis: Stuart Pearson heads with his family to spend a summer vacation in Creek Landing, Michigan, with his brother Nathan Pearson and his sons and their mother Rose in an old lake house they had rented. When the television has trouble with the image, Stuart's son Tom and the arrogant boyfriend of his sister Ricky Dillman go to the attic and then to the roof, where Tom meets his cousin Jake and they find the antenna dish totally destroyed. Sooner they discover four alien invaders that are preparing an invasion of the Earth that use a mind control weapon that only affects adults and they lock the quartet in the attic. Now they need to a find a way to force the adults to leave the house and discover the vulnerability of the invaders to plot a defense plan to save our planet.
Status:
Aliens in the Attic Movie Trailer
About the Movie
Aliens in the Attic (formerly known as They Came from Upstairs) is an upcoming feature film starring Robert Hoffman, Ashley Tisdale, Carter Jenkins, Henri Young, Regan Young, and Austin Butler. The film was set to be released on February 13, 2009 but was pushed back to July 31, 2009, according to the official site of the film. The first trailer of the film was released on October 23, 2008. The previous title of the film, "They Came from Upstairs" is now the film's tagline.
---
'Aliens in the Attic' Stars
Andy Richter, Ashley Tisdale, Austin Robert Butler, Doris Roberts, John Schultz, Kevin Nealon, Robert Hoffman
---
'Aliens in the Attic' Movie Links

Official Aliens in the Attic Movie Website


Aliens in the Attic on IMDb