---
Aliens (1986)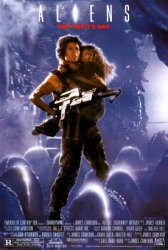 Starring: Sigourney Weaver, Carrie Henn, Michael Biehn, Lance Henriksen, Paul Reiser, Bill Paxton, Jenette Goldstein
Director: James Cameron
Release Date:

July 18th, 1986
Release Date:

29th August, 1986
Synopsis: The only survivor of the Nostromo, Ripley is discovered in deep sleep half a century later by a salvage ship. When she is taken back to Earth, she learns that a human colony was founded on the same planet where the aliens were first found. After contact with the colony is lost, she finds herself sent back to the planet along with a team of warriors bent on destroying the alien menace forever, and saving any survivors, if any remain.
Status:
About the Movie
Aliens is a 1986 science fiction action film directed by James Cameron and starring Sigourney Weaver, Carrie Henn, Michael Biehn, Lance Henriksen, and Bill Paxton. A sequel to the 1979 film Alien, Aliens is set fifty-seven years after the first film and is regarded by many film critics as a benchmark for the action and science fiction genres. In Aliens, Weaver's character Ellen Ripley returns to the planetoid LV-426 where she first encountered the hostile Alien. This time she is accompanied by a unit of Colonial Marines.
Aliens' action-adventure tone was in contrast to the horror motifs of the original Alien. Following the success of The Terminator (1984), which helped establish Cameron as a major action director, 20th Century Fox greenlit Aliens with a budget of approximately $18 million. It was filmed in England at Pinewood Studios, and at a decommissioned power plant.
Aliens earned $86 million in the United States box office during its 1986 theatrical release and $131 million internationally. The movie was nominated for seven Academy Awards, including a Best Actress nomination for Sigourney Weaver. It won in the categories of Sound Effects Editing and Visual Effects.
---
'Aliens' Stars
Alien Quadrilogy, Bill Paxton, Carrie Henn, James Cameron, Jenette Goldstein, Lance Henriksen, Michael Biehn, Paul Reiser, Sigourney Weaver
---
'Aliens' Movie Links

Aliens on IMDb