---
Amadeus (1984)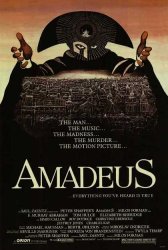 Starring: F. Murray Abraham, Tom Hulce, Elizabeth Berridge, Roy Dotrice, Simon Callow, Christine Ebersole, Jeffrey Jones
Director: Milos Forman
Release Date:

September 19th, 1984
Release Date:

15th February, 1985
Synopsis: Antonio Salieri believes that Mozart's music is divine. He wishes he was himself as good a musician as Mozart so that he can praise the Lord through composing. But he can't understand why God favored Mozart, such a vulgar creature, to be his instrument. Salieri's envy has made him an enemy of God whose greatness was evident in Mozart. He is set to take revenge.
Status:
About the Movie
Peter Shaffer's Amadeus is a 1984 musical film directed by Miloš Forman and written by Peter Shaffer. Adapted from Shaffer's stage play Amadeus, the story is based loosely on the lives of Wolfgang Amadeus Mozart and Antonio Salieri, two composers who lived in Vienna, Austria, during the latter half of the 18th century.
The film was nominated for 53 awards and received 40, including 8 Academy Awards (including Best Picture), 4 BAFTA Awards, 4 Golden Globes, and a DGA Award. In 1998, the American Film Institute ranked Amadeus #53 on its 100 Years… 100 Movies list.
Currently, the director's cut is rated R by the MPAA for brief nudity. The theatrical version received a PG rating at its release.
---
'Amadeus' Stars
Christine Ebersole, Elizabeth Berridge, F. Murray Abraham, Jeffrey Jones, Milos Forman, Roy Dotrice, Simon Callow, Tom Hulce
---
'Amadeus' Movie Links

Amadeus on IMDb