---
One Flew Over the Cuckoo's Nest (1975)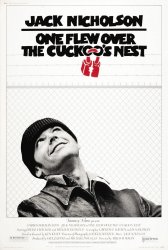 Starring: Jack Nicholson, Louise Fletcher, Brad Dourif, Christopher Lloyd, Will Sampson, Danny DeVito, Vincent Schiavelli
Director: Milos Forman
Release Date:

November 19th, 1975
Synopsis: McMurphy, a man with several assault convictions to his name, finds himself in jail once again. This time, the charge is statutory rape when it turns out that his girlfriend had lied about being eighteen, and was, in fact, fifteen. Rather than spend his time in jail, he convinces the guards that he's crazy enough to need psychiatric care and is sent to a hospital. He fits in frighteningly well, and his different point of view actually begins to cause some of the patients to progress. Nurse Ratched becomes his personal cross to bear as his resistance to the hospital routine gets on her nerves.
Status:
One Flew Over the Cuckoo's Nest Movie Trailer
About the Movie
One Flew Over the Cuckoo's Nest is a 1975 American drama film directed by Miloš Forman. The film is an adaptation of the 1962 novel One Flew Over the Cuckoo's Nest by Ken Kesey. The movie was the second to win all five major Academy Awards (Best Picture, Actor in Lead Role, Actress in Lead Role, Director, Screenplay) since It Happened One Night in 1934, an accomplishment not repeated until 1991 by The Silence of the Lambs. One Flew Over the Cuckoo's Nest is frequently called one of the greatest films in the history of American cinema.
There had been an earlier stage version of the book, in 1963, but the film does not use the script of the stage version.
The movie was filmed at Oregon State Hospital in Salem, Oregon, which was the setting of the novel.
---
'One Flew Over the Cuckoo's Nest' Stars
Brad Dourif, Christopher Lloyd, Danny DeVito, Jack Nicholson, Louise Fletcher, Milos Forman, Vincent Schiavelli, Will Sampson
---
'One Flew Over the Cuckoo's Nest' Movie Links

One Flew Over the Cuckoo's Nest on IMDb