---
The Departed (2006)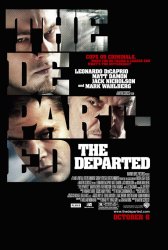 Starring: Leonardo DiCaprio, Matt Damon, Jack Nicholson, Mark Wahlberg, Martin Sheen, Ray Winstone, Vera Farmiga, Alec Baldwin
Director: Martin Scorsese
Release Date:

October 6th, 2006
Release Date:

6th October, 2006
Synopsis: Billy Costigan, a young man from a crook family, wants to do redeem the Costigan family by joining the cops. However, the cops see him as the perfect mole because of his crook family, so they send him undercover to the Irish Mob. Meanwhile, Frank Costello, the mob boss, sends in Colin Sullivan to become a cop for the opposite purpose. Both get caught up in their double lives and become obsessed with finding the other mole, as does Costello and Queenan, the heads of each side.
Status:
The Departed Movie Trailer
About the Movie
The Departed is a 2006 American crime film, and a remake of the 2002 Hong Kong film Infernal Affairs. The film was directed by Martin Scorsese, written by William Monahan and stars Leonardo DiCaprio, Matt Damon, Jack Nicholson, Mark Wahlberg, Martin Sheen, Ray Winstone, Vera Farmiga, Anthony Anderson and Alec Baldwin. The film won four Academy Awards at the 79th Academy Awards, including Best Picture, and a Best Director win for Scorsese.
This film takes place in Boston, Massachusetts, where notorious Irish Mob boss Francis "Frank" Costello (Nicholson) plants Colin Sullivan (Damon) as an informant within the Massachusetts State Police. Simultaneously, the police assign undercover cop Billy Costigan (DiCaprio) to infiltrate Costello's crew. When both sides of the law realize the situation, each man attempts to discover the other's true identity before being found out.
---
'The Departed' Stars
Alec Baldwin, Jack Nicholson, Leonardo DiCaprio, Mark Wahlberg, Martin Scorsese, Martin Sheen, Matt Damon, Ray Winstone, Vera Farmiga
---
'The Departed' Movie Links

Official The Departed Movie Website


The Departed on IMDb