---
Shutter Island (2010)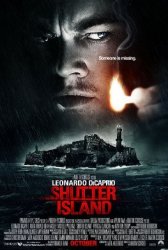 Starring: Leonardo DiCaprio, Mark Ruffalo, Ben Kingsley, Emily Mortimer, Michelle Williams, Max von Sydow, Jackie Earle Haley
Director: Martin Scorsese
Release Date:

February 19th, 2010
Release Date:

12th March, 2010
Synopsis: It's 1954, and up-and-coming U.S. marshal Teddy Daniels is assigned to investigate the disappearance of a patient from Boston's Shutter Island Ashecliffe Hospital. He's been pushing for an assignment on the island for personal reasons, but before long he wonders whether he hasn't been brought there as part of a twisted plot by hospital doctors whose radical treatments range from unethical to illegal to downright sinister. Teddy's shrewd investigating skills soon provide a promising lead, but the hospital refuses him access to records he suspects would break the case wide open. As a hurricane cuts off communication with the mainland, more dangerous criminals "escape" in the confusion, and the puzzling, improbable clues multiply, Teddy begins to doubt everything – his memory, his partner, even his own sanity.
Status:
Shutter Island Movie Trailer
About the Movie
Shutter Island is a 2010 psychological mystery-thriller film directed by Martin Scorsese and starring Leonardo DiCaprio. The film is based on the 2003 novel of the same name by Dennis Lehane. Production started in March 2008. Shutter Island was originally slated to be released on October 2, 2009, but Paramount pushed the release date to February 19, 2010. Paramount head executive Brad Grey blamed the recent economic downturn as the main decision behind the delayed release date.
---
Movie Reviews
Movie Review from EmpireOnline.com

Most directors who got their start with Roger Corman kicked off their careers with some sort of a horror film – Francis Coppola made Dementia 13, Peter Bogdanovich made Targets, Joe Dante made Piranha. Atypically, Martin Scorsese's apprentice exploitation work was a gangster picture, Boxcar Bertha. Though Scorsese has often expressed admiration for movie fantasists from Michael Powell through Mario Bava to Hammer Films, he has made only two films with supernatural themes, both religious rather than horrific: the Devil, of course, appears in The Last Temptation of Christ, while benign reincarnation is central to Kundun. And yet, few filmmakers have expressed the nightmarish so well or so often, as demonstrated by such descents into madness or urban hell as Taxi Driver, The King of Comedy, After Hours and Bringing Out the Dead.

Read the Full Movie Review at EmpireOnline.com
Movie Review from TotalFilm.com

A ferry emerges out of a Stygian murk so impenetrable it might well be taking Orpheus to the Underworld. On board are Teddy Daniels (Leonardo DiCaprio) and Chuck Aule (Mark Ruffalo), two US Marshals heading for an Alcatraz-like islet off the coast of Massachusetts housing a hospital for the criminally insane. Their objective? To investigate how a multiple murderess (Emily Mortimer) managed to escape from a locked room without anyone noticing. Yet this is more than just an assignment for Teddy, an ex-GI tormented by memories of liberating Dachau nine years earlier and of his wife Dolores (Michelle Williams), who died in a suspicious apartment fire. It's also a cue for revenge and the start of four days of reckoning that will force him to face secrets buried in his past and locked in his subconscious.

Read the Full Movie Review at TotalFilm.com
Movie Review from Hollywood.com

The latest chapter in Martin Scorsese's fruitful DiCaprio phase is the haunting psychological thriller Shutter Island. Based on the bestselling novel by Mystic River author Dennis Lehane, Shutter Island casts Leo as U.S. Marshal Edward "Teddy" Daniels, a World War II veteran and recent widower assigned with investigating the escape of a female inmate from Ashecliffe Hospital, a facility for the criminally insane housed on an ominous island outside Boston Harbor.

Read the Full Movie Review at Hollywood.com
Movie Review from Guardian.co.uk

Martin Scorsese's new movie is a tale of sound and fury, signifying … well, not nothing exactly, but a heck of a lot less than it promises, given the straining intensity of those performances, the glowering darkness of mood, the grand gesture at 20th-century history's grimmest nightmares, and the sheer length. This was supposed to be Scorsese's experiment in B-movie thrills, but no mere B-movie director would go on for two hours and 20 minutes. That's an auteur running time we're talking about, and at the end of it, I got a whiff of shaggy dog.

Read the Full Movie Review at Guardian.co.uk
Movie Review from TimeOut.com

Kitsch is most enjoyable when it doesn't know it's kitsch. Everyone involved in 'Shutter Island' – most obviously director Martin Scorsese and star Leonardo DiCaprio – seem to be taking this berserk, meandering story absolutely seriously, which only serves to make an already fun psychological thriller all the more ludicrous and entertaining.

Read the Full Movie Review at TimeOut.com
Movie Review from Movies.com

They used to call films like this "B-movies" because they were cheaply made and were about haunted houses. And now the B-movies have Grade-A budgets and huge stars and fancy directors like Martin Scorsese, which means that the filmmaking becomes more important than the subject matter. If you wanted to, you could take the film's post-war shellshock, horror-hospital setting and tense, mind-scrambling paranoia about government conspiracies as commentary on How We Live Now. But I think it's sort of just about the haunted house. And that's okay because it's really great at being about the haunted house.

Read the Full Movie Review at Movies.com
Movie Review from Telegraph.co.uk

Shutter Island it's called. But "Shut-eye Island" would be a better title. Martin Scorsese's follow-up to The Departed, like that film based on a novel by Dennis Lehane, is an eardrum-punishing cacophony of orchestral stabs, raging storms, metallic doors being slammed, tough guys yelling "Goddam". Listen carefully and, in all likelihood, these will be accompanied by your own filmic conscience squealing: "Get me out of here!"

Read the Full Movie Review at Telegraph.co.uk
---
'Shutter Island' Stars
Ben Kingsley, Emily Mortimer, Jackie Earle Haley, Leonardo DiCaprio, Mark Ruffalo, Martin Scorsese, Max von Sydow, Michelle Williams
---
'Shutter Island' Movie Links

Official Shutter Island Movie Website


Shutter Island on IMDb