---
Goodfellas (1990)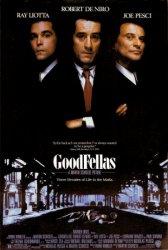 Starring: Robert De Niro, Ray Liotta, Joe Pesci, Lorraine Bracco, Paul Sorvino
Director: Martin Scorsese
Release Date:

September 19th, 1990
Release Date:

26th October, 1990
Synopsis: Henry Hill is a small time gangster, who takes part in a robbery with Jimmy Conway and Tommy De Vito, two other gangsters who have set their sights a bit higher. His two partners kill off everyone else involved in the robbery, and slowly start to climb up through the hierarchy of the Mob. Henry, however, is badly affected by his partners success, but will he stoop low enough to bring about the downfall of Jimmy and Tommy?
Status:
About the Movie
Goodfellas (also styled GoodFellas) is a 1990 American semi-fictional crime film directed by Martin Scorsese. It is based on the non-fiction book Wiseguy by Nicholas Pileggi, who also co-wrote the screenplay for the film with Scorsese. The film follows the rise and fall of three gangsters, spanning three decades.
Scorsese originally intended to direct Goodfellas before The Last Temptation of Christ, but when funds materialized to make Last Temptation, he postponed what was then known as Wise Guy. The title of Pileggi's book had already been used for a TV series and for Brian De Palma's 1986 comedy Wise Guys, so Pileggi and Scorsese changed the name of their film to Goodfellas. To prepare for their roles in the film, Robert De Niro, Joe Pesci, and Ray Liotta talked often with Pileggi, who shared with the actors research material that had been left over from writing the book. According to Pesci, improvisation and ad-libbing came out of rehearsals where Scorsese gave the actors freedom to do whatever they wanted. The director made transcripts of these sessions, took the lines that the actors came up with that he liked best, and put them into a revised script the cast worked from during principal photography.
Goodfellas performed well at the box office, grossing $46.8 million domestically, well above its $25 million budget; it received overwhelmingly positive reviews from critics. The film was nominated for six Academy Awards but only won one for Pesci in the Best Actor in a Supporting Role category. Scorsese's film won five awards from the British Academy of Film and Television Arts and was named best film of the year by the New York Film Critics Circle, the Los Angeles Film Critics Association, and the National Society of Film Critics. Goodfellas is often considered one of the greatest films ever, both in the genre of crime and in general and was deemed "culturally significant" and selected for preservation in the National Film Registry by the United States Library of Congress.
The word "fuck" is used in the film approximately 300 times, ninth most in film.
---
'Goodfellas' Stars
Joe Pesci, Lorraine Bracco, Martin Scorsese, Paul Sorvino, Ray Liotta, Robert De Niro
---
'Goodfellas' Movie Links

Goodfellas on IMDb