---
Taxi Driver (1976)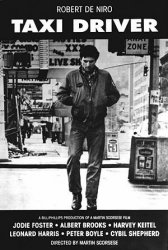 Starring: Robert De Niro, Jodie Foster, Albert Brooks, Harvey Keitel, Leonard Harris, Peter Boyle, Cybill Shepherd
Director: Martin Scorsese
Release Date:

February 8th, 1976
Synopsis: New York City cab driver Travis Bickle constantly, almost obsessively, reflects on the ugly corruption of life around him, and becomes increasingly disturbed over his own loneliness and alienation. In nearly every phase of his life, Bickle remains a complete outsider, failing to make emotional contact with anyone. Unable to sleep night after night, Travis haunts the local pornography emporiums to find diversion, and begins desperately thinking about an escape from his depressing existence.
Status:
Taxi Driver Movie Trailer
About the Movie
Taxi Driver is a 1976 film directed by Martin Scorsese and written by Paul Schrader. The movie is set in New York City, soon after the Vietnam War. The film stars Robert De Niro and features Albert Brooks, Harvey Keitel, Leonard Harris, Peter Boyle, Cybill Shepherd, and a young Jodie Foster. The film was nominated for four Academy Awards, including "Best Picture", and won the Palme d'Or at the 1976 Cannes Film Festival.
The film gained notoriety once John Hinckley, Jr. confessed that it was his obsession with Foster's role that made him attempt to assassinate Ronald Reagan in 1981.
---
'Taxi Driver' Stars
Albert Brooks, Cybill Shepherd, Harvey Keitel, Jodie Foster, Leonard Harris, Martin Scorsese, Peter Boyle, Robert De Niro
---
'Taxi Driver' Movie Links

Taxi Driver on IMDb