---
Raging Bull (1980)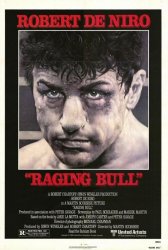 Starring: Robert De Niro, Cathy Moriarty, Joe Pesci, Frank Vincent, Nicholas Colasanto
Director: Martin Scorsese
Release Date:

November 14th, 1980
Release Date:

10th April, 1981
Synopsis: When Jake LaMotta steps into a boxing ring and obliterates his opponent, he's a prizefighter, but when he treats his family and friends the same way, he's a ticking time bomb, ready to go off at any moment. Though LaMotta wants his family's love, something always seems to come between them. Perhaps it's his violent bouts of paranoia and jealousy. This kind of rage helped make him a champ, but in real life, he winds up in the ring alone.
Status:
Raging Bull Movie Trailer
About the Movie
Raging Bull is a 1980 American biographical film directed by Martin Scorsese, adapted by Paul Schrader and Mardik Martin from the memoir Raging Bull: My Story. It stars Robert De Niro as Jake LaMotta, a middleweight boxer whose sadomasochistic rage, sexual jealousy, and animalistic appetite exceeded the boundaries of the prizefight ring, and destroyed his relationship with his wife and family. Also featured in the film are Joe Pesci as Joey, La Motta's well intentioned brother and manager who tries to help Jake battle his inner demons, and Cathy Moriarty as his abused wife. The film features supporting roles from Nicholas Colasanto, Theresa Saldana, and Frank Vincent, who has starred in many films directed by Martin Scorsese.
After receiving mixed initial reviews, (and criticism due to its disturbing level of violence, and upsetting material) it went on to garner a high critical reputation and is now widely regarded among the greatest movies ever made. It is one of five films that has been named to the National Film Registry in its first year of eligibility, (along with Do the Right Thing, Goodfellas, Toy Story, and Fargo.)
---
'Raging Bull' Stars
Cathy Moriarty, Frank Vincent, Joe Pesci, Martin Scorsese, Nicholas Colasanto, Robert De Niro
---
'Raging Bull' Movie Links

Raging Bull on IMDb