---
The Godfather: Part II (1974)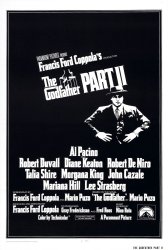 Starring: Al Pacino, Robert Duvall, Diane Keaton, Robert De Niro, John Cazale, Talia Shire, Lee Strasberg
Director: Francis Ford Coppola
Release Date:

December 20th, 1974
Synopsis: The continuing saga of the Corleone crime family tells the story of a young Vito Corleone growing up in Sicily and in 1910s New York; and follows Michael Corleone in the 1950s as he attempts to expand the family business into Las Vegas, Hollywood and Cuba.
Status:
The Godfather: Part II Movie Trailer
About the Movie
The Godfather Part II is a 1974 American gangster film directed by Francis Ford Coppola from a script co-written with Mario Puzo. The film is both a sequel and a prequel to The Godfather, chronicling the story of the Corleone family following the events of the first film while also depicting the rise to power of the young Vito Corleone before the events of the first film. The film stars Al Pacino, Robert Duvall, Diane Keaton, Robert De Niro, John Cazale, Talia Shire, Michael V. Gazzo and Lee Strasberg.
The Godfather Part II was nominated for 11 Academy Awards and won six, including Best Picture and Best Supporting Actor for Robert De Niro, and has been selected for preservation in the U.S. National Film Registry.
---
'The Godfather: Part II' Stars
Al Pacino, Diane Keaton, Francis Ford Coppola, John Cazale, Lee Strasberg, Robert De Niro, Robert Duvall, Talia Shire
---
'The Godfather: Part II' Movie Links

The Godfather: Part II on IMDb