---
Apocalypse Now (1979)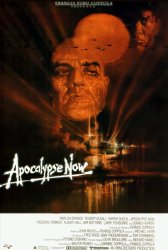 Starring: Marlon Brando, Robert Duvall, Martin Sheen, Frederic Forrest, Albert Hall, Sam Bottoms, Laurence Fishburne, Dennis Hopper
Director: Francis Ford Coppola
Release Date:

August 15th, 1979
Release Date:

1st December, 1979
Synopsis: Vietnam, 1969. Burnt out Special Forces officer Captain Willard is sent into the jungle with top-secret orders to find and kill renegade Colonel Kurtz who has set up his own army within the jungle. As Willard descends into the jungle, he is slowly over taken by the jungle's mesmerizing powers and battles the insanity which surrounds him. His boat crew succumbs to drugs and are slowly killed off one by one. As Willard continues his journey he becomes more and more like the man he was sent to kill.
Status:
Apocalypse Now Movie Trailer
About the Movie
Apocalypse Now is a 1979 American epic war film set during the Vietnam War. The plot revolves around two US Army special operations officers, one of whom, Captain Benjamin L. Willard (Martin Sheen) of MACV-SOG, is sent into the jungle to assassinate the other, the rogue and presumably insane Colonel Walter E. Kurtz (Marlon Brando) of Special Forces. The film was produced and directed by Francis Ford Coppola from a script by Coppola and John Milius. The script is based on Joseph Conrad's novella Heart of Darkness, and also draws elements from Michael Herr's Dispatches, the film version of Conrad's Lord Jim (which shares the same character of Marlow with Heart of Darkness), and Werner Herzog's Aguirre, the Wrath of God (1972).
The film became notorious in the entertainment press due to its lengthy and troubled production, as documented in Hearts of Darkness: A Filmmaker's Apocalypse. Marlon Brando showed up to the set overweight and Martin Sheen suffered a heart attack. The production was also beset by extreme weather that destroyed several expensive sets. In addition, the release date of the film was delayed several times as Coppola struggled to come up with an ending and to edit the millions of feet of footage that he had shot. The film won the Cannes Palme d'Or and was nominated for the Academy Award for Best Picture and the Golden Globe Award for Best Motion Picture – Drama.
---
'Apocalypse Now' Stars
Albert Hall, Dennis Hopper, Francis Ford Coppola, Frederic Forrest, Laurence Fishburne, Marlon Brando, Martin Sheen, Robert Duvall, Sam Bottoms
---
'Apocalypse Now' Movie Links

Apocalypse Now on IMDb