---
The Godfather (1972)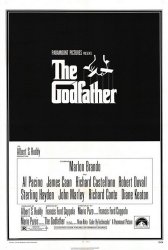 Starring: Marlon Brando, Al Pacino, James Caan, Richard S. Castellano, Robert Duvall, Sterling Hayden, John Marley, Richard Conte, Diane Keaton, John Cazale
Director: Francis Ford Coppola
Release Date:

March 24th, 1972
Synopsis: Vito Corleone is the aging don of the Corleone Mafia Family. His youngest son Michael has returned from WWII just in time to see the wedding of Connie Corleone to Carlo Rizzi. All of Michael's family is involved with the Mafia, but Michael just wants to live a normal life. Drug dealer Virgil Sollozzo is looking for Mafia Families to offer him protection in exchange for a profit of the drug money. He approaches Don Corleone about it, but, much against the advice of the Don's lawyer Tom Hagen, the Don is morally against the use of drugs, and turns down the offer.
Status:
The Godfather Movie Trailer
About the Movie
The Godfather is a 1972 American gangster film based on the novel of the same name by Mario Puzo and directed by Francis Ford Coppola from a screenplay by Puzo, Coppola, and Robert Towne (uncredited). It stars Marlon Brando, Al Pacino, James Caan, Richard S. Castellano, Robert Duvall, Sterling Hayden, John Marley, Richard Conte and Diane Keaton, and features John Cazale, Talia Shire, Al Martino, and Abe Vigoda. The story spans ten years from 1945 to 1955 and chronicles the fictional Italian American Corleone crime family. Two sequels followed: The Godfather Part II in 1974, and The Godfather Part III in 1990.
The Godfather received Academy Awards for Best Picture, Best Actor, and Best Adapted Screenplay, and has been selected for preservation in the United States National Film Registry. In addition, it is ranked as the second greatest film in American cinematic history, behind Citizen Kane, on the AFI's 100 Years… 100 Movies (10th Anniversary Edition) list by the American Film Institute.
---
'The Godfather' Stars
Al Pacino, Diane Keaton, Francis Ford Coppola, James Caan, John Cazale, John Marley, Marlon Brando, Richard Conte, Richard S. Castellano, Robert Duvall, Sterling Hayden
---
'The Godfather' Movie Links

The Godfather on IMDb