---
Apollo 18 (2011)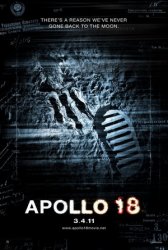 Director: Gonzalo López-Gallego
Release Date:

September 2nd, 2011
Release Date:

2nd September, 2011
Running Time: 88 Mins
Synopsis: Officially, Apollo 17, launched December 17th, 1972 was the last manned mission to the moon. But a year later, in December of 1973, two American astronauts were sent on a secret mission to the moon funded by the US Department of Defense. What you are about to see is the actual footage which the astronauts captured on that mission. While NASA denies its authenticity, others say it's the real reason we've never gone back to the moon.
Status:
titlexxx - Apollo 18 Movie Trailer
About the Movie
Apollo 18 is an upcoming 2011 American science fiction horror film directed by Gonzalo Lopez-Gallego and produced by Timur Bekmambetov. The film's premise is that the officially canceled Apollo 18 mission was actually launched in December 1974 but never returned, and as a result the United States has never launched another expedition to the Moon. The film is shot in a mockumentary found-footage style, supposedly of the lost footage of the Apollo 18 mission that was only recently discovered. The film will be Lopez-Gallego's first English-language film.
After various release date changes, the film is currently scheduled to be released on September 2, 2011.
---
Movie Reviews
Movie Review from EmpireOnline.com

Directed by Gonzalo López-Gallego, who made the Spanish suspense item King of the Hill, this is a more high-tech 'found footage' effort than the usual wander-in-the-woods Blairwitchiness. It feeds on conspiracy theories about the space race (it's almost the anti-Capricorn One) and manages a convincing simulation of the look and feel of the hours of moon mission coverage which kept TV viewers rapt during the heyday of the Apollo program.

Read the Full Movie Review at EmpireOnline.com
Movie Review from Hollywood.com

Apollo 18, a low-budget, "found footage" sci-fi thriller directed by Gonzalo Lopez-Gallego, is built around a tantalizing, if far-fetched, revisionist-history premise. It proposes that NASA's Apollo program wasn't scrapped due to budget considerations, as Wikipedia alleges, but rather because something happened up there that made future manned voyages to the moon untenable. (It's not dissimilar to the concept behind the summer blockbuster Transformers: Dark of the Moon.

Read the Full Movie Review at Hollywood.com
Movie Review from TimeOut.com

When a film arrives trailed by TV ads and bus posters but a notable lack of press previews, the expectation is that it's unwatchably bad. But while 'Apollo 18' isn't about to win any awards, there will be far worse films released in cinemas this year. It's best approached as a kind of minimalist horror movie, short on character development and narrative logic but possessing a sort of sparse, ragged charm.

Read the Full Movie Review at TimeOut.com
Movie Review from Movies.com

Wanted director Timur Bekmambetov held a screenplay competition and this movie's script was the winning submission. I don't know when this competition was held. I suppose I could go look up the specifics if I felt it really mattered. But based on the way the finished product got held back from release for a pretty long time and then not shown to critics, I'm going to guess that the contest began and ended in a bar immediately following an early screening of The Blair Witch Project.

Read the Full Movie Review at Movies.com
Movie Review from Telegraph.co.uk

Billed as Blair Witch goes to the moon, this may be a bridge too far for "found footage" horror flicks, and certain isn't a patch on this very week's Troll Hunter. The fixed and multiple cameras create one hell of a headache, not least for the editors: sensory frazzling soon produces tedium, as three American astronauts, played by no one you recognise, go into orbit and kind of mill around waiting for the money shots.

Read the Full Movie Review at Telegraph.co.uk
---
'Apollo 18' Stars
---
'Apollo 18' Movie Links

Official Apollo 18 Movie Website


Apollo 18 on IMDb


Apollo 18 on Wikipedia