---
Astro Boy (2009)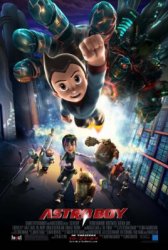 Starring: Nicolas Cage, Kristen Bell, Bill Nighy, Freddie Highmore, Donald Sutherland, Moises Arias, Eugene Levy
Director: David Bowers
Release Date:

October 23rd, 2009
Release Date:

5th February, 2010
Synopsis: Set in futuristic Metro City, Astro Boy is about a young robot with incredible powers created by a brilliant scientist named Dr. Tenma. Powered by positive "blue" energy, Astro Boy is endowed with super strength, x-ray vision, unbelievable speed and the ability to fly. Embarking on a journey in search of acceptance, Astro Boy encounters many other colourful characters along the way experiencing betrayal and a netherworld of robot gladiators. Through his adventures, he learns the joys and emotions of being human, and gains the strength to embrace his destiny. Ultimately learning his friends and family are in danger, Astro Boy marshals his awesome super powers and returns to Metro City in a valiant effort to save everything he cares about, reconcile with the father who had rejected him and understand what it means to be a hero.
Status:
About the Movie
Astro Boy is a 2009 Japanese/American computer-animated 3-D film based on the highly successful Japanese franchise of the same name by Osamu Tezuka. It is being produced by Imagi Animation Studios, the animation production company of TMNT and the upcoming Gatchaman. The studio announced the project in September 2006. It will be directed by David Bowers (Flushed Away) and produced by Maryann Garger with Pilar Flynn as associate producer. The film was originally to be directed by Colin Brady, who directed the 2006 animated film Everyone's Hero. It has been announced that Freddie Highmore will provide the voice for the character of Astro Boy in the movie. A short trailer of the movie was shown in the North American Home Theater of PlayStation Home from December 28, 2008 to January 8, 2009.
---
Movie Reviews
Movie Review from EmpireOnline.com

Osamu Tezuka's jet-footed robo-tot Astro Boy has been a manga icon for well over five decades, and his influence runs as deep as his inspirations (The Powerpuff Girls are the most obvious example of the former; Pinocchio the latter). So it's surprising that it's taken so long for a gaijin version. Unfortunately, David Bowers' CG-cheapie fails to handle Tezuka's creation effectively.
A predictable origin story with nonsensical threads, it mainly concerns ultra-con President Stone's (Donald Sutherland) attempts to harness the android-child's mysterious "blue energy" to spark an election-winning war. Any ethical questions about building a robot in a dead child's image are understandably glossed over, and instead Bowers yawns out the usual 'accept who you are' moral as Astro (Freddie Highmore) hides his circuits from his fleshling friends.

Read the Full Movie Review at EmpireOnline.com
Movie Review from TotalFilm.com

Is it a bird? Is it a plane? No, kids: it's the Mighty Atom, a 50-year-old Japanese manga revived for this slick, shiny, if ever-so-slightly soulless CG caper.
Fun, colourful and full of action, David Bowers' 'toon will have little trouble diverting those of a similar age to its perky, wide-eyed protagonist. But anybody older will probably spend the film's modest running time ticking off the better movies it clearly borrows from.

Read the Full Movie Review at TotalFilm.com
---
'Astro Boy' Stars
Bill Nighy, David Bowers, Donald Sutherland, Eugene Levy, Freddie Highmore, Kristen Bell, Moises Arias, Nicolas Cage
---
'Astro Boy' Movie Links

Official Astro Boy Movie Website


Astro Boy on IMDb