---
The Sorcerer's Apprentice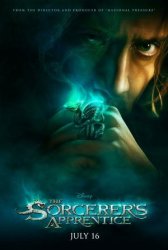 Starring: Nicolas Cage, Jay Baruchel, Monica Bellucci, Alfred Molina, Ethan Peck, Teresa Palmer
Director: Jon Turteltaub
Release Date:

July 16th, 2010
Release Date:

13th August, 2010
Synopsis: Balthazar Blake is a master sorcerer in modern-day Manhattan trying to defend the city from his arch-nemesis, Maxim Horvath. Balthazar can't do it alone, so he recruits Dave Stutler, a seemingly average guy who demonstrates hidden potential, as his reluctant protégé. The sorcerer gives his unwilling accomplice a crash course in the art and science of magic, and together, these unlikely partners work to stop the forces of darkness.
Status:
The Sorcerer's Apprentice Movie Trailer
About the Movie
The Sorcerer's Apprentice is an upcoming 2010 Disney family adventure film directed by Jon Turteltaub, produced by Jerry Bruckheimer and starring Nicolas Cage and Jay Baruchel. It is a live action re-imagining of the Mickey Mouse Sorcerer's Apprentice segment in Disney's Fantasia, which in turn is based on the late 1890s symphonic poem by Paul Dukas and 1797 Johann Wolfgang von Goethe ballad. The film is set to be released on July 16, 2010.
---
Movie Reviews
Movie Review from EmpireOnline.com

Johan Wolfgang Von Goethe, German philosopher and proud author of the 14-stanza 1797 poem Der Zauberlehrling (or The Sorcerer's Apprentice), might struggle to locate the antecedents of his creation in Jon Turteltaub's The Sorcerer's Apprentice (or Jerry Bruckheimer's Der Lehrling Des Zauberers). Indeed, Mickey Mouse — the foolhardy apprentice in Fantasia's most adored segment (or Squeakun Mousen Macken Der Katastrophic Mit Mop Und Bucket) — would be hard pressed to divine the uproarious splendour of Disney's animation in this breezy run-through of Hollywood dweeb empowerment staples. But that is what the wizardly Bruckheimer has attempted for his second fantasia of the summer: an effects-heavy, teen-com 'expansion' of an elderly tale on the perils of slacking off your household chores.

Read the Full Movie Review at EmpireOnline.com
Movie Review from TotalFilm.com

Regardless of plot, director, script or storyline, you're always guaranteed one area of mind-boggling entertainment from a Nicolas Cage movie: the wig.
And in The Sorcerer's Apprentice, he doesn't disappoint, rocking a kind of shaggy Aerosmith-meets-hobo piece, which goes perfectly well with his leather trench coat to complete the look of Balthazar Blake, a master sorcerer tasked with the pesky job of protecting modern-day New York from the wickedness of Maxim Horvath (a movie-stealing Alfred Molina).

Read the Full Movie Review at TotalFilm.com
Movie Review from Hollywood.com

Jay Baruchel is Hollywood's affable geek du jour, having plied his unique trade recently in the animated blockbuster How to Train Your Dragon and the considerably less successful rom-com She's Out of My League. His gangly frame, twitchy visage, and nasal drone make him perfect for movies in which awkward, self-effacing underdogs triumph against enormous odds to achieve great feats, like saving a Viking tribe from certain destruction or getting laid by a really, really hot blonde chick.

Read the Full Movie Review at Hollywood.com
Movie Review from Guardian.co.uk

Any film starring Nicolas Cage will have his fans waiting tensely for the great man to do his first trademark Sudden Shout. It comes early on here, when a terrified small boy asks Cage how he knew what his name was. "I can READ MINDS!" he suddenly shouts, turning on a vocal sixpence for the quiet punchline: "… and it's on your backpack." Cage plays Balthazar Blake, a sorcerer in present day New York, who has remained eternally alive from the days of Ye Olde Englande when he learned his trade from Merlin himself, along with two other sorcerers.

Read the Full Movie Review at Guardian.co.uk
Movie Review from TimeOut.com

Following a welcome return to his bug-eyed heyday in 'Bad Lieutenant', Nicolas Cage again goes for the big-bucks jackpot of the family movie with 'The Sorcerer's Apprentice', reuniting with 'National Treasure' director Jon Turteltaub for a breezily entertaining but forgettable magical romp. Cage plays Balthazar Blake, a mage locked in a long war of wills with sleazy, power-hungry warlock Horvath (Alfred Molina), until the appearance of bumbling student physicist and natural magician Dave (Jay Baruchel) threatens to tip the balance.

Read the Full Movie Review at TimeOut.com
Movie Review from Movies.com

As an object to look at and be zoomed along in like an amusement park ride–which is all it's meant to be–this movie is pretty much more of the summery same. All the digital effects, all the stuff transforming into other stuff, all the battles, you've seen them before and you've felt them more urgently. But it's still not a miserable failure, just copycattish. The shoehorned-in scene where Baruchel finds himself overwhelmed by mops, even though it has no narrative reason to exist, is more fun to watch than the rest of the film. Then they go away. but it's enough to make you wish the mops had just been the whole movie, Snow White-style, with names like Soapy and Buckethead.

Read the Full Movie Review at Movies.com
Movie Review from Telegraph.co.uk

Never one to miss an unsubtle (and rather belated) lunge at the mainstream zeitgeist, producer Jerry Bruckheimer has decided it's magic hour. This is his Harry Potter, with a dash of The Karate Kid, and just two brief sequences with the mops and broomsticks to link it to Paul Dukas and Mickey Mouse. Otherwise it's the kind of hectic assembly of mystical-action hijinks that Bruckheimer, director Jon Turteltaub, and frontman Nicolas Cage served up in the National Treasure movies: passably diverting, never close to essential.

Read the Full Movie Review at Telegraph.co.uk
---
'The Sorcerer's Apprentice' Stars
Alfred Molina, Ethan Peck, Jay Baruchel, Jon Turteltaub, Monica Bellucci, Nicolas Cage, Teresa Palmer
---
'The Sorcerer's Apprentice' Movie Links

The Sorcerer's Apprentice on IMDb