---
She's Out of My League (2010)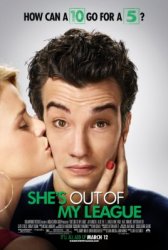 Starring: Alice Eve, Jay Baruchel, Krysten Ritter, Mike Vogel, Lindsay Sloane, Geoff Stults, Jasika Nicole
Director: Jim Field Smith
Release Date:

March 12th, 2010
Release Date:

12th March, 2010
Synopsis: Kirk an average Joe, can't believe his luck. Though he's stuck in a seemingly dead-end job as an airport security agent, against all odds Molly, a successful and outrageously gorgeous babe falls for him. Kirk is stunned. So are his friends, his family and even his ex-girlfriend. Now he has to figure out how to make the relationship work, even though he's the first to admit "She's Out of My League."
Status:
She's Out of My League Movie Trailer
About the Movie
She's Out of My League is a 2010 American romantic comedy directed by Jim Field Smith and written by Sean Anders and John Morris. The film stars Jay Baruchel and Alice Eve, and was produced by Jimmy Miller for Paramount Pictures and DreamWorks and filmed in Pittsburgh. Production on the film finished in 2008. The film received its wide theatrical release on March 12, 2010.
---
Movie Reviews
Movie Review from Hollywood.com

The new rom-com She's Out of My League requires a pretty hefty suspension of belief, asking us to believe that a goddess like Alice Eve would not only be attracted to the fidgety schlub played by Jay Baruchel (Tropic Thunder, How to Train Your Dragon), but that she would aggressively pursue him, tolerate his erratic and often bizarre behavior, and endure the ceaseless taunts of his incredulous social circle while never exhibiting obvious symptoms of some brain-eating third-world disease. Moreover, it asks us to believe that Baruchel can carry a film. And frankly, that's just too much to ask.

Read the Full Movie Review at Hollywood.com
Movie Review from Movies.com

It's not insightful or original about anything more than a generic self-esteem boost for goony dudes who dream of hot babes, but it's never not doing cartwheels to make you laugh. And that's because groups of man-boys acting like idiots is, more often than not (and like it or not), hilarious. And the gross-out set piece everyone will be talking about is a satisfactory raising of the ante from There's Something About Mary's "hair gel", with a pie and Superbad's menstruation panic.

Read the Full Movie Review at Movies.com
---
'She's Out of My League' Stars
Alice Eve, Geoff Stults, Jasika Nicole, Jay Baruchel, Jim Field Smith, Krysten Ritter, Lindsay Sloane, Mike Vogel
---
'She's Out of My League' Movie Links

Official She's Out of My League Movie Website


She's Out of My League on IMDb