---
Prince of Persia: The Sands of Time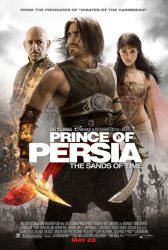 Starring: Jake Gyllenhaal, Gemma Arterton, Ben Kingsley, Alfred Molina, Toby Kebbell, Reece Ritchie, Richard Coyle
Director: Mike Newell
Release Date:

May 28th, 2010
Release Date:

28th May, 2010
Synopsis: Set in medieval Persia, the story of an adventurous prince who teams up with a rival princess to stop an angry ruler from unleashing a sandstorm that could destroy the world. Which is why after the prince was tricked by a dying Vizier to unleash the Sands of Time that turns out to destroy a kingdom and transforms its populace into ferocious demons. In his effort to save his own kingdom and redeem his fatal mistake, it's up to the prince and the princess to return the sands to the hourglass by using the Dagger of Time, which also gives him a limited control over the flow of time.
Status:
Prince of Persia: The Sands of Time Movie Trailer
About the Movie
Prince of Persia: The Sands of Time is an upcoming action-adventure fantasy film written by Jordan Mechner, Boaz Yakin, Doug Miro, and Carlo Bernard, directed by Mike Newell, and produced by Jerry Bruckheimer. The film is based on the 2003 video game of the same name, developed and released by Ubisoft Montreal.
The film stars Jake Gyllenhaal as Prince Dastan, Gemma Arterton as Tamina, Ben Kingsley as Nizam, and Alfred Molina as Sheik Amar.
Currently, it is the fourth film under the Walt Disney Pictures banner to receive a PG-13 rating by the MPAA (and the first not in the Pirates of the Caribbean series) for intense sequences of violence and action. Despite the film being primarily based on The Sands of Time, elements from Warrior Within and The Two Thrones are also incorporated.
---
'Prince of Persia: The Sands of Time' Stars
Alfred Molina, Ben Kingsley, Gemma Arterton, Jake Gyllenhaal, Mike Newell, Reece Ritchie, Richard Coyle, Toby Kebbell
---
'Prince of Persia: The Sands of Time' Movie Links

Prince of Persia: The Sands of Time on IMDb