---
Bangkok Dangerous (2008)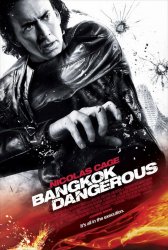 Starring: Nicolas Cage, Charlie Yeung, Shahkrit Yamnarm, Panward Hemmanee
Director: Oxide Pang Chun, Danny Pang
Release Date:

September 5th, 2008
Release Date:

5th September, 2008
Synopsis: Joe, an international hit man who follows a simple code, arrives in Bangkok for his last contract – four kills and then retirement. He hires Kong, a local street hustler, to run his errands, and he gets to work. By the second hit, Joe has started violating his four rules, losing his anonymity, leaving behind traces, and getting emotionally involved. Only one rule remains intact: don't ask questions. Can Joe regain his footing and get out alive?
Status:
Bangkok Dangerous Movie Trailer
About the Movie
Bangkok Dangerous is a 2008 crime film, written and directed by the Pang Brothers, and starring Nicolas Cage. It is a remake of the Pangs' 1999 debut film of the same name, a Thai film, for which Cage's production company, Saturn Films, purchased the remake rights. Known by its working title, Big Hit in Bangkok, and also as Time to Kill, it began filming in Bangkok in August 2006, with locations that include Soi Cowboy.
The film was financed by Initial Entertainment Group, with Lionsgate acquiring its North America distribution rights. The film was released in North America on September 5, 2008.
---
'Bangkok Dangerous' Stars
Charlie Yeung, Danny Pang, Nicolas Cage, Oxide Pang Chun, Panward Hemmanee, Shahkrit Yamnarm
---
'Bangkok Dangerous' Movie Links

Official Bangkok Dangerous Movie Website


Bangkok Dangerous on IMDb