---
The Bad Lieutenant: Port of Call – New Orleans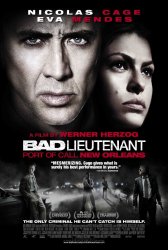 Starring: Nicolas Cage, Eva Mendes, Val Kilmer, Fairuza Balk, Xzibit, Shawn Hatosy, Jennifer Coolidge
Director: Werner Herzog
Release Date:

November 20th, 2009
Release Date:

21st May, 2010
Synopsis: After Katrina, police sergeant Terence McDonagh rescues a prisoner, hurts his back in the process and earns a promotion to lieutenant plus an addiction to cocaine and painkillers. Six months later, a family is murdered over drugs; Terence runs the investigation. His drug-using prostitute girlfriend, his alcoholic father's dog, run-ins with two old women and a well-connected john, gambling losses, a nervous young witness, and thefts of police property put Terence's job and then his life in danger. He starts seeing things. He wants a big score to get out from under mounting debts, so he joins forces with drug dealers. The murders remain unsolved. A bad lieutenant gets worse.
Status:
The Bad Lieutenant: Port of Call – New Orleans Movie Trailer
About the Movie
Bad Lieutenant: Port of Call: New Orleans is a 2009 American crime drama film directed by Werner Herzog and starring Nicolas Cage. The film was released on November 20, 2009.
It appears to borrow superficially from Abel Ferrara's 1992 film, Bad Lieutenant, which featured a crooked cop (Harvey Keitel), who is a drug addict and takes sexual favors as bribes. The film's director, however, insists that it is not a sequel or a remake.
---
'The Bad Lieutenant: Port of Call – New Orleans' Stars
Eva Mendes, Fairuza Balk, Jennifer Coolidge, Nicolas Cage, Shawn Hatosy, Val Kilmer, Werner Herzog, Xzibit
---
'The Bad Lieutenant: Port of Call – New Orleans' Movie Links

Official The Bad Lieutenant: Port of Call – New Orleans Movie Website


The Bad Lieutenant: Port of Call – New Orleans on IMDb