---
My Son, My Son, What Have Ye Done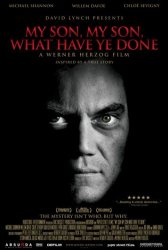 Starring: Willem Dafoe, Brad Dourif, Loretta Devine, Chloë Sevigny, Michael Shannon, Udo Kier
Director: Werner Herzog
Release Date:

10th September, 2010
Synopsis: Officers arrive at a typical middle-class neighborhood in San Diego, where a suspect has barricaded himself inside a home and appears to have taken hostages. In a series of flashbacks, the bizarre story of Brad Macallam begins to emerge. After an ill-fated white-water kayaking trip in a distant land, Brad finds readjustment to suburban life increasingly difficult. As his disaffection grows and his relations with those around him become strained, he glimpses a world more vivid and strangely frightening than others can see. The detectives try to penetrate the mystery of his story, but the questions only multiply.
Status:
My Son, My Son, What Have Ye Done Movie Trailer
About the Movie
My Son, My Son, What Have Ye Done? is a film directed by Werner Herzog and produced by David Lynch, inspired by the story of murderer Mark Yavorsky. Herzog describes the film as "a horror film without the blood, chainsaws and gore, but with a strange, anonymous fear creeping up in you".
The film was originally planned for production in the Summer of 2008, but was postponed in favor of Herzog's Bad Lieutenant: Port of Call New Orleans. Information about the film was first released at a press conference at the 2008 Cannes Film Festival. Filming began around San Diego, California in March 2009. It was nominated for the Golden Lion at the 66th Venice International Film Festival. It was the first time in Venice film festival history that there are two Golden Lion nominated films both directed by the same director in one year.
---
Movie Reviews
Movie Review from TotalFilm.com

Static, posed shots overlaid with yodelly Spanish folk music; actors standing next to each other shouting dialogue into the middle distance; a dwarf in a tuxedo (clearly Lynch's scrawl on the beermat), angry ostriches (Herzog's bird fear).
On paper, a Lynch-produced Herzog movie looks like a good – if a touch challenging – idea. Sadly, the dish doesn't reflect the recipe, emerging as a gloopy stodge of clashing styles, templated obsessions and aggravating, overtly experimental tropes.

Read the Full Movie Review at TotalFilm.com
Movie Review from Guardian.co.uk

My Son, My Son, What Have Ye Done finds God in a cereal box and Satan on an ostrich farm. It's a deadpan black comedy, directed by Werner Herzog, co-produced by David Lynch and loosely based on the case of Mark Yavorsky, an amateur actor who became so unhinged by his role in Sophocles's Electra that he tried to kill his mother with a samurai sword. Michael Shannon plays the Yavorsky figure (here renamed Brad McCullum) as a shambling shaman with a 1,000-yard stare. Chloë Sevigny co-stars as his passive fiancee, while Willem Dafoe completes the trio as the pensive cop who lays siege to Brad's humdrum suburban house. Nobody, least of all the cop, seems quite sure what's going on. "I don't mean to alarm you, Miss, but it's all a little strange," Dafoe tells Sevigny in a hushed monotone.

Read the Full Movie Review at Guardian.co.uk
Movie Review from TimeOut.com

The excitement following last year's announcement that the movie world's two most notable mavericks, Werner Herzog and David Lynch, would be working together for the first time was swiftly tempered by reports that Lynch was on board only as executive producer and would have no direct hand in the writing or filmmaking process. Well, something clearly got mixed up somewhere because it's hard to imagine an actual collaboration feeling more overtly Lynchian than 'My Son, My Son, What Have Ye Done?', a brooding, absurdist psychodrama that feels a lot like a prospective episode of Lynch's unmade 'Mulholland Drive' TV show, albeit weighed down with wholly Herzogian psychological and spiritual preoccupations.

Read the Full Movie Review at TimeOut.com
Movie Review from Telegraph.co.uk

In the allegedly true story My Son, My Son, What Have Ye Done, Michael Shannon plays Brad, a mummy's boy and aspiring actor, who returns home to San Diego after an unsettling experience in the Peruvian jungle. His subsequent performance in a Greek tragedy spills over into real life when he murders his mother. Willem Dafoe's nice-as-pie cop turns up to conclude the ensuing siege peacefully.
Oddly understated, it's nevertheless as unnerving a vision of disintegration in suburbia as you'd expect from director Werner Herzog and producer David Lynch, two of the movies' most brilliantly demented visionaries.

Read the Full Movie Review at Telegraph.co.uk
---
'My Son, My Son, What Have Ye Done' Stars
Brad Dourif, Chloë Sevigny, Loretta Devine, Michael Shannon, Udo Kier, Werner Herzog, Willem Dafoe
---
'My Son, My Son, What Have Ye Done' Movie Links

Official My Son, My Son, What Have Ye Done Movie Website


My Son, My Son, What Have Ye Done on IMDb