---
The Runaways (2010)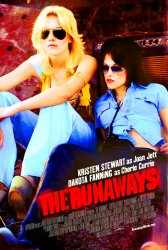 Starring: Kristen Stewart, Dakota Fanning, Alia Shawkat, Scout Taylor-Compton, Michael Shannon, Tatum O'Neal, Brett Cullen
Director: Floria Sigismondi
Release Date:

March 19th, 2010
Release Date:

10th September, 2010
Synopsis: The Runaways (Neon Angels) is based on lead-singer Cherie Currie's book 'Neon Angel' – a reflection of her experiences as a rock star, but also delivering a strong anti-drug warning to teens and others. David Bowie's "Space Oddity" serves as a metaphor for the narrative – a slow countdown, a surreal but spectacular rise to fame, then alienation and burnout – a long long way from home.
Status:
The Runaways Movie Trailer
About the Movie
The Runaways is a 2010 biographical film, based on the 1970s all-girl rock band of the same name. The film was written and directed by Floria Sigismondi, and stars Kristen Stewart as Joan Jett, Dakota Fanning as Cherie Currie, Stella Maeve as Sandy West, Scout Taylor-Compton as Lita Ford, and Michael Shannon as Kim Fowley. Alia Shawkat plays the band's bassist, a fictional character named Robin, created due to legal issues preventing the portrayal of bassist Jackie Fox.
The film is partially based on lead-singer Cherie Currie's 1989 autobiography Neon Angel: The Cherie Currie Story which details her fractured childhood, the group's meteoric rise to fame, and her subsequent battle and recovery from drug and alcohol addiction.
---
Movie Reviews
Movie Review from EmpireOnline.com

In the short breath between glam rock and punk rock, The Runaways were the real deal, girls who could deliver raunch and roll. The 'ch-ch-ch-ch-Cherry Bomb' on the icing of this funny-sad coming-of-age drama/musical biopic is the postscript at the end in which we learn that Cherie Currie — on whose 1989 autobiography, Neon Angel, the film is based — is now a "chainsaw artist". What could be more suitable for a retired hard rockin', re-habbed wild child?

Read the Full Movie Review at EmpireOnline.com
Movie Review from TotalFilm.com

You can keep your Baby, Posh, Sporty and Scary.
Before sanitised girl power there was The Runaways, an all-girl band formed in 1975 by 16-year-old Joan Jett, who played as hard and fast as the guys, opening doors for chicks laying down licks.
At GCSE age, these girls were touring the world, shocking audiences and wearing the hell out of leather before the inevitable sex and drugs got in the way of the rock 'n' roll.

Read the Full Movie Review at TotalFilm.com
Movie Review from Hollywood.com

I love it when a film surprises me; it's my favorite thing about being a critic. This year's South by Southwest film festival saw the regional premiere of The Runaways, a biopic of the titular all-girl rock band from the late '70s, starring Dakota Fanning as lead singer Cherie Currie and Kristen Stewart as guitarist Joan Jett. Having despised the Twilight films, and doubting seriously that Stewart could act her way out of a paper bag, I expected to hate this film. But what I saw from her turned out to be the biggest surprise of the festival.

Read the Full Movie Review at Hollywood.com
Movie Review from Guardian.co.uk

The time passes; the seasons turn, summer turns to autumn and now Dakota Fanning and Kristen Stewart are playing rock chicks. And doing it pretty convincingly, what's more – Stewart, anyway. This is the intriguingly low-key, unhappy story of the Runaways, the 1970s all-girl band fronted by singer Cherie Currie (Fanning), with Joan Jett (Stewart) providing guitar and rock'n'roll attitude. With a clump of black hair, leather jacket and high-waisted blue denims, Stewart has an eerie resemblance to Jett, and when in one scene she takes her top off facing away from the camera, her back looks as broad and muscular as a weightlifter's.

Read the Full Movie Review at Guardian.co.uk
Movie Review from TimeOut.com

Little in life is as frustrating as a film that should be effortlessly brilliant but can't quite make it happen. The true story of The Runaways – five LA teens who formed an all-girl rock group and had a fistful of classics before imploding amid self-righteous recrimination – reads like the archetypal rock biopic plot. Pop-vid veteran Floria Sigismondi shoots with gorgeous, sun-kissed super-saturation and her recreation of the sleazy '70s proto-punk scene is flawless.

Read the Full Movie Review at TimeOut.com
Movie Review from Movies.com

If you love punk rock and the grrl power behind The Runaways' music, you'll find yourself bopping along as stars Kristen Stewart and Dakota Fanning sing their way (pretty decently) through the band's greatest hits. As Joan Jett and Cherie Currie, the Twilight co-stars acquit themselves well with well-studied characterizations that capture the spirit and physicality of their real-life counterparts, Stewart all hunched and intense and Fanning the picture of '70s suburban teen ennui with her Bardot hair and platform heels. While director Flora Sigismondi keeps the biopic chugging along by chronicling The Runaways' rise and fall, their infamous Japanese tour, the brief implied sexual relationship between Currie and Jett, the band's breakup, and what happened to the two women years afterward, the film languishes at times without a clear sense of momentum to drive the story forward.

Read the Full Movie Review at Movies.com
Movie Review from Telegraph.co.uk

One of the worst insults reserved by sneering pundits for pop music they don't like is that it's "manufactured", and the rise of Simon Cowell and all his works has certainly redrawn the route to the top of the charts. But manufactured groups, brought together with a marketing strategy in mind, have always been around – and they haven't all been rubbish.
The Monkees were cobbled together in the Sixties as America's answer to the Beatles and plonked in a zany television sitcom; yet the songs – perky, infectious, intricately-crafted – were actually quite good. As cartoon characters, the Archies were even less "real", but Sugar, Sugar, their worldwide hit of 1969, is two minutes and 48 seconds of pure pop.

Read the Full Movie Review at Telegraph.co.uk
---
'The Runaways' Stars
Alia Shawkat, Brett Cullen, Dakota Fanning, Floria Sigismondi, Kristen Stewart, Michael Shannon, Scout Taylor-Compton, Tatum O'Neal
---
'The Runaways' Movie Links

Official The Runaways Movie Website


The Runaways on IMDb