---
Twilight (2008)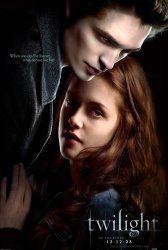 Starring: Kristen Stewart, Robert Pattinson, Taylor Lautner, Billy Burke, Peter Facinelli, Elizabeth Reaser, Nikki Reed
Director: Catherine Hardwicke
Release Date:

November 21st, 2008
Release Date:

19th December, 2008
Synopsis: Isabella Swan moves to gloomy Forks to live with her father. As she starts her junior year in high school she becomes fascinated by Edward Cullen who holds a dark secret which is only known by his family. Edward falls in love with Bella as well but knows the further they progress in their relationship the more he is putting Bella and those close to her at risk. Edward warns Bella that she should leave him but she refuses to listen and to understand why he is saying this. Bella learns his secret. He is a vampire, however she is not afraid of his blood-thirsty needs and the fact he could kill her at any moment. Bella is afraid of losing him, the love of her life. The thrill begins when a new vampire finds it a challenge to hunt Bella down for her irresistible blood. The game is on and James will not stop until she is killed.
Status:
About the Movie
Twilight is a 2008 romantic-fantasy film. It is the first film in The Twilight Saga film series, directed by Catherine Hardwicke and based on the novel of the same name by Stephenie Meyer. It focuses on the development of a relationship between human teenager Bella Swan (Kristen Stewart) and vampire Edward Cullen (Robert Pattinson), and the subsequent efforts of Cullen and his family to keep Swan safe from a coven of evil vampires.
The project was in development for approximately three years at Paramount Pictures, during which time a screen adaptation which differed significantly from the novel was written. Summit Entertainment acquired the rights to the novel after three years of the project's stagnant development. Melissa Rosenberg wrote a new adaptation of the novel shortly before the 2007–2008 Writers Guild of America strike and sought to be faithful to the novel's storyline. Principal photography took 44 days, and completed on May 2, 2008. The film was primarily shot in Washington and Oregon in early 2008.
Twilight was released in theaters on November 21, 2008, and grossed US$35.7 million on its opening day. The film has grossed US$408,773,703 in worldwide box office and, as of February 2010, $186,347,713 in North American DVD sales. It is also the film with the most DVDs sold in 2009, selling a total of 10,233,407 units that year. The soundtrack was released on November 4, 2008. New Moon and Eclipse, the next two books in the series, were produced as films the following year.
---
Movie Reviews
Movie Review by TonyD
Score – ½ out of 4
Before the previews came on before "Twilight," I thought of many things how you can possibly kill a vampire movie. Vampire movies must have a lot of blood. If there isn't a lot of blood, then what the fuck is a vampire? Vampires can only die if they get a stake to the heart or stay out in the sunlight. They don't HAVE to die, but I expect to see them stay away from the sunlight and only come out at the dead of night. And for the romance portion of the tale, if there is one, of course, it must be interesting and awkward at the same time.
Here is what I came up with while watching "Twilight." Let me be the first to say that I have never read the book and after watching the movie, I really don't plan on it any time soon. "Twilight" has very little blood. In fact, for the little bit of blood that there is in the movie, it makes you want to go next door and watch the climax of "Saw V." These vampires in "Twilight" CAN stay out in the sunlight and not burn to death. But the romantic scenes in "Twilight" are awkward, but there is no way in the depths of hell that they are interesting.

Read the Full 'Twilight' Movie Review at FilmArcade.net
Movie Review by Marty Meltz
Quality – 5 out of 10
Vampires lite. A teenage chick flick.
What director Catherine Hardwicke is dealing with here, or is trying to, is how teenage girls' rising and directionless sexuality would confront a handsome, mentally tortured vampire teenage boy. I won't even make an attempt at commenting on how effective that is in the movie. But I rather believe that teenage girl audiences will have to read their own meanings into this.
That is, such impact just isn't there as it's treated on the screen. Although Hardwicke, commendably, does maintain a heady focus on all the sexually dynamic dialogue, the leads and their bleakness of personality make for a decidedly undercooked romance.
Well, so here it is . . .
A time for teenage vampire love? Well, let's see . . .
A new place to live. A new high school to go to. Bella Swan (Kristen Stewart) shrugs it all off.
Who cares, anyway? Back in her Phoenix, Arizona high school, she'd never bothered about conforming to anything or anybody, least of all those snooty cliques and fashion-mad trendies who were such vacant individuals.
So here she is now, having moved to the very wet little town of Forks, Washington living with her dad Charlie (Billie Burke). This was her option after mom had decided to move off with her new husband to Florida. Yet why would anything be different here? Superficial high school kids, witless people, intellectual voids all.
But, well now, here comes something. Edward Cullen (Robert Pattinson). He is . . . very . . . very different. Like no one she's ever known in her life. Yeah! Bright and sharp-minded, a virtual spiritual presence, this guy not only sees into her but seems to drive his vibrations right into her soul.
And is he ever a magnificent hunk! Romance forthcoming? You bet. But there's nothing, but nothing, normal about this boy. Nothing! For one thing he can effortlessly stop a car with his bare hands. For another, how about his running speed? Like faster than a horse. But maybe the most shocking thing about him is that he has not aged a day since 1918.
Y'see, . . . Edward Cullen . . . is a vampire.
But hold on now — not the fang and blood-drinking kind. They do exist, but he's a "vampire vegetarian." And he is immortal, of course. But vegetarian or not, he and his cohorts do go on "hikes" in which they feed on cougars and grizzly bears.
But what's most of consequence is that Bella is obviously a soul-mate. Her very scent can drive him nuts. But they've been waiting for each other for 90 years. Now what can they do when Edwards' mortal enemies show up in town, James (Cam Gigandet), Laurent (Edi Gathegi), and Victoria (Rachel Lefevre)? Because, you see, James takes a liking to Bella. She may be in mortal danger.
Not helping matters at all is the jerky camera work, which calls attention to itself. As to the supernatural drive, it depends on events that don't fit all that well with the plot's flow and are visual underachievers. The attacks by three other vampires seem rather random.
The acting is embarrassing. The dialogue is amateurish. The kicks are schlock.

Read More Movie Reviews at Marty at the Movies
Movie Review by Todd Murphy
Rating – 6/10
A unique take on the age-old vampire story that could have been quite thrilling and dramatic if it were not for the incessant music video style sequences and an unwillingness by the filmmakers to expand the tone of the film beyond its core teenage audience.
Twilight deserves kudos for creating a unique take on the vampire story, which has been so well covered throughout both cinematic and literary history. It can thank its source material in the novel by Stephenie Meyer who manages to create a world and logic that works extremely well and allows for this highly improbable union between a teenage girl and a vampire who looks 17 but is in fact much much older.
The chemistry between the leads Kristen Stewart and Robert Pattinson, who play Bella and Edward, makes the whole thing work; they infuse their characters with a likeability and vulnerability that is endearing, especially in the case of Edward who has to fight every urge in his body to perform his natural instinct of sucking the blood out of Bella.
However unlikely it is to appear in a teenage romance, the theme of choosing to overcome your instincts and natural persona to become something more is at the heart of this film, with Edward and his family choosing not to feast on the blood of humans, making them benign vampires. "We're like vegetarians", Edward says at one point.
Another unexpected plus is the use of humour. There are quite a number of moments that will have you smiling, with one stand out being Bella's father loading his shot gun when Bella arrives home with Edward. Overall, this is a film that is unique and worth checking out for that reason.
The main issue with this film is its style; given the core audience for this film is teenage in nature the filmmakers have decided to make, in effect, a two hour music video. Additionally, the darkness associated with any vampire story is toned down significantly in order to hit that same audience. As a result, the film has no dramatic or thrilling moments, relying solely on the chemistry between Bella and Edward to carry it through.
The climatic fight scenes between the good and bad vampires are shoddily done, lacking any real thrills. You know the good guys will win so its just an exercise of going through the motions. You get the hint of a big backstory of how the vampires came to settle in the area and their stand off with the wolves, but this is never really brought to the forefront (I guess that's what the sequel will be for!).
With such great potential in the story, Twilight could have been something special, but unfortunately, only teenage girls will be able to get any value out of the final product.

Read More Movie Reviews at AllAboutMovies.net
---
'Twilight' Stars
Billy Burke, Catherine Hardwicke, Elizabeth Reaser, Kristen Stewart, Nikki Reed, Peter Facinelli, Robert Pattinson, Taylor Lautner
---
'Twilight' Movie Links

Official Twilight Movie Website


Twilight on IMDb