---
Batman Begins (2005)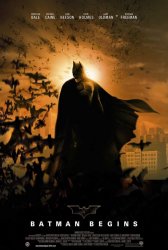 Starring: Christian Bale, Michael Caine, Liam Neeson, Katie Holmes, Gary Oldman, Morgan Freeman, Cillian Murphy
Director: Christopher Nolan
Release Date:

June 18th, 2005
Release Date:

16th June, 2005
Synopsis: Eight-year-old Bruce Wayne falls into a cave where he encounters a swarm of bats. Bruce develops a fear of bats, and later urges his parents to leave an opera featuring bat-like creatures. Outside the theater, Bruce Wayne's parents are both killed in a robbery by mugger Joe Chill. Bruce blames himself for his parents' murder: had he not been frightened, the Waynes would not have encountered Chill. He is taken in by a mysterious instructor named Ducard and urged to become a ninja in the League of Shadows, but he instead returns to his native Gotham City resolved to end the mob rule that is strangling it.
Status:
Batman Begins Movie Trailer
Batman Begins Teaser Trailer
About the Movie
Batman Begins is a 2005 action thriller film based on the fictional DC Comics character Batman, directed by Christopher Nolan. It stars Christian Bale as Batman, along with Michael Caine, Gary Oldman, Liam Neeson, Katie Holmes, Cillian Murphy, Morgan Freeman, Ken Watanabe, Tom Wilkinson, and Rutger Hauer. The film reboots the Batman film series, telling the origin story of the character and begins with Bruce Wayne's initial fear of bats, the death of his parents, and his journey to becoming Batman. It draws inspiration from classic comic book storylines such as Batman: The Man Who Falls, Batman: Year One, and Batman: The Long Halloween.
After a series of unsuccessful projects to resurrect Batman on screen following the 1997 critical failure of Batman & Robin, Nolan and David S. Goyer began work on the film in early 2003 and aimed for a darker and more realistic tone, with humanity and realism being the basis of the film. The goal was to get the audience to care for both Batman and Bruce Wayne. The film, which was primarily shot in England and Chicago, relied on traditional stunts and miniatures—computer-generated imagery was used minimally. A new Batmobile (called the Tumbler) and a more mobile Batsuit were both created specifically for the film.
Batman Begins was critically and commercially successful. The film opened on June 15, 2005 in the United States and Canada in 3,858 theaters. It grossed $48 million in its opening weekend, eventually grossing $370 million worldwide. The film received an 85% overall approval rating from Rotten Tomatoes. Critics noted that fear was a common theme throughout the film, and remarked that it had a darker tone compared to previous Batman films. A sequel titled The Dark Knight was released in July 2008 and also saw the return of both Nolan and Bale to the franchise. Batman Begins grossed $496,853,783 in both DVD and box office sales.
---
'Batman Begins' Stars
Christian Bale, Christopher Nolan, Cillian Murphy, Gary Oldman, Katie Holmes, Liam Neeson, Michael Caine, Morgan Freeman
---
'Batman Begins' Movie Links

Official Batman Begins Movie Website


Batman Begins on IMDb