---
Beastly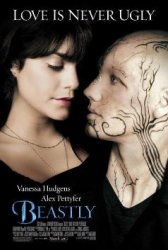 Starring: Alex Pettyfer, Vanessa Hudgens, Neil Patrick Harris, Dakota Johnson, Erik Knudsen, Mary-Kate Olsen
Director: Daniel Barnz
Release Date:

March 4th, 2011
Release Date:

22nd April, 2011
Running Time: 86 Mins
Synopsis: Kyle Kingson has it all, looks, intelligence, wealth and opportunity, and a wicked cruel streak. Prone to mocking and humiliating "aggressively unattractive" classmates, he zeroes in on Goth classmate Kendra, inviting her to the school's extravagant environmental bash. Kendra accepts, and, true to form, Kyle blows her off in a particularly savage fashion. She retaliates by casting a spell that physically transforms him into everything he despises.
Status:
titlexxx - Beastly Movie Trailer
About the Movie
Beastly is an upcoming fantasy romance film based on Alex Flinn's 2007 novel of the same name. It is a retelling of the fairytale Beauty and the Beast set in modern-day New York City. The film is written and directed by Daniel Barnz and stars Vanessa Hudgens, Alex Pettyfer, Mary Kate Olsen, Neil Patrick Harris and Lisa Gay Hamilton. The plot focuses on Kyle Kingson, a handsome man with an evil streak, who disrespects a classmate, who is a witch in disguise, during an environmental event. The witch then casts a spell on Kyle and physically transforms him into a grotesque monster. It was expected to be distributed to theaters by CBS Films and Alliance Films on July 30, 2010. It was, however, moved to March 18, 2011, in order to avoid Hudgens's film from clashing with the release of Zac Efron's film Charlie St. Cloud, but in January 2011, it was bumped down to March 4, 2011.
---
'Beastly' Stars
Alex Pettyfer, Dakota Johnson, Daniel Barnz, Erik Knudsen, Mary-Kate Olsen, Neil Patrick Harris, Vanessa Hudgens
---
'Beastly' Movie Links

Official Beastly Movie Website


Beastly on IMDb


Beastly on Wikipedia