---
Sucker Punch (2011)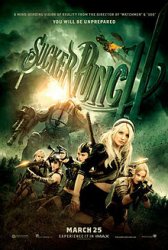 Starring: Emily Browning, Abbie Cornish, Jena Malone, Vanessa Hudgens, Jamie Chung, Carla Gugino
Director: Zack Snyder
Release Date:

March 25th, 2011
Release Date:

1st April, 2011
Running Time: 110 Mins
Synopsis: A young girl (Baby Doll) is locked away in a mental asylum by her wicked stepfather where she will undergo a lobotomy in 5 days time. Faced with unimaginable odds, she retreats to fantastical world in her imagination where she and four other female inmates at the asylum plot to escape the facility. The lines between reality and fantasy blur as Baby Doll and her companions battle various creatures and enemies to retrieve the 5 items they need that will allow them to break free from their captors before it's too late.
Status:
titlexxx - Sucker Punch Movie Trailer
About the Movie
Sucker Punch is an upcoming American action-fantasy film written by Steve Shibuya and Zack Snyder, and directed by Snyder. Sucker Punch features an ensemble female cast that includes Emily Browning, Abbie Cornish, Jena Malone, Vanessa Hudgens and Jamie Chung. The film follows a young girl in the 1950s about to be lobotomized as she attempts to escape an asylum with her inmate friends.
Development began in March 2007. The script, which was penned by Snyder and Shibuya, was finalized in five years and was actually planned to be made first before Watchmen. For Sucker Punch, Snyder gathered most of the Vancouver-based production team who worked on Watchmen. Pre-production took place in Los Angeles in June 2009, then moved to Vancouver in July. Principal photography began in September 2009 and concluded in January 2010; filming took place in Vancouver.
Sucker Punch is scheduled to be released in both conventional and IMAX theatres on March 25, 2011. It was previously announced that the film would be released October 8, 2010. Snyder is currently mapping out the Blu-ray interactivity for the film in preparation for the film's home media release.
---
Movie Reviews
Movie Review from EmpireOnline.com

From debut Dawn Of The Dead to last year's Legend Of The Guardians, working exclusively in adaptation has played to director Zack Snyder's greatest strength: fashioning impressive and distinctive visual constructs from rich source materials. With Sucker Punch, though, we finally get to see what Snyder can make with self-mined ore. In some ways, this is his own Inception (although Christopher Nolan, of course, had also self-penned his debut, Following). And the results are… Well…

Read the Full Movie Review at EmpireOnline.com
Movie Review from TotalFilm.com

He's spun gold from the works of George Romero, Frank Miller and Alan Moore, but it's finally time for Zack Snyder to take off the training wheels. Sucker Punch is Snyder's first original screenplay, and though it confirms he's among the most exciting action directors working today, it also reveals that storytelling isn't his strong suit. Back-story is confined to the opening credits, where we're introduced to Baby Doll (Browning) as her abusive father locks her in the nuthouse, lobotomy pending.

Read the Full Movie Review at TotalFilm.com
Movie Review from Hollywood.com

Sucker Punch, a sprawling and convoluted action sci-fi fantasy, is director Zack Snyder's first "original" film, in that it's based on a script Snyder co-wrote (along with Steve Shibuya) and not a graphic novel or a previous movie. But to anyone who has seen Snyder's two previous live-action films, 300 and Watchmen, it will feel awfully familiar: His now-trademark flourishes – gorgeous visuals, elaborate action sequences, a desaturated color palette, a CGI-airbrushed "heightened reality," abundant slo-mo, and fatal self-seriousness – are all conspicuously on display.

Read the Full Movie Review at Hollywood.com
Movie Review from TimeOut.com

Zack Snyder's bloodless mash-up of comic-book fantasy, kick-ass action and teenage wish-fulfilment thinks it's a smart subversion of submissive female stereotypes. In fact, it comes across as the sad wet dream of a middle-aged man raised on the reductive archetypes of comic-books and computer games. Committed to a 1950s mental asylum by her step-father, Babydoll (Emily Browning) escapes from the grim reality of past abuse, cruel male guards and theatre-based therapy by conjuring up worlds in which she and fellow inmates fight giant samurais.

Read the Full Movie Review at TimeOut.com
Movie Review from Movies.com

A long time ago Jean Luc Godard said that all you needed to make a movie was a girl and a gun. And what this film proves is that it would help your cause if your project also happened to be directed by the 1962 version of Luc Godard. Because there's no recent example of an action/adventure/thriller that came along noisily trumpeting its shiny features any louder than this one is doing with so little to show for it. On paper it's all win-win-win: girls, guns, knives, robots, dragons, zombies, zeppelins, swords, fighter planes...

Read the Full Movie Review at Movies.com
Movie Review from Telegraph.co.uk

If you thought Zack Snyder's previous films, among them 300 and Watchmen, were over the top – cliché-embracing, muscle-bound pseudo-triumphs of digital effects over storytelling – they have nothing on Sucker Punch. His first movie to be based on original material (a relative concept, to be sure), and presumably named after the sensation of duped idiocy it will induce in many of those reckless enough to see it, it's a cacophonous, militantly stupid orgy of guns, knives and explosions that recalls Kill Bill, Shutter Island and Lara Croft: Tomb Raider.

Read the Full Movie Review at Telegraph.co.uk
---
'Sucker Punch' Stars
Abbie Cornish, Carla Gugino, Emily Browning, Jamie Chung, Jena Malone, Vanessa Hudgens, Zack Snyder
---
'Sucker Punch' Movie Links

Official Sucker Punch Movie Website


Sucker Punch on IMDb


Sucker Punch on Wikipedia