---
Limitless (2011)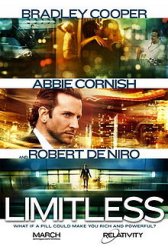 Starring: Robert De Niro, Bradley Cooper, Abbie Cornish, Anna Friel, Johnny Whitworth, Andrew Howard
Director: Neil Burger
Release Date:

March 18th, 2011
Release Date:

23rd March, 2011
Running Time: 105 Mins
Synopsis: A copywriter discovers a top-secret drug which bestows him with super human abilities. As his usage begins to change his life, he begins to consider the drug's shadowy origins; meanwhile, a group of killers trails his every move.
Status:
titlexxx - Limitless Movie Trailer
About the Movie
Limitless is a 2011 American thriller film directed by Neil Burger and starring Bradley Cooper, Abbie Cornish, and Robert De Niro. It is based on the 2001 novel The Dark Fields by Alan Glynn. The film is scheduled to be released in the United States and Canada on March 18. It is scheduled to be released in the United Kingdom on March 23, 2011.
---
Movie Reviews
Movie Review from EmpireOnline.com

Wannabe writer Eddie (Cooper) is heartbroken, broke and blocked, until a friend slips him an experimental smart drug, transforming him from scuzzy loser into Hello!-retouched genius. Yes, it's a Faust for the pharmaceutical age – an uglified Anna Friel pops up as a burned-out former addict – and Eddie soon finds himself haunted by blackouts and hunted by bad guys. Burger (The Illusionist) and Cooper both have enormous fun with the daft material, and it's good to see De Niro on form, as a billionaire on the trail of Eddie's secret.

Read the Full Movie Review at EmpireOnline.com
Movie Review from TotalFilm.com

What would you give to be brilliant? Charismatic, dynamic, sexy – the perfect you? That's the question posed by Limitless, an enjoyable 'What If' thriller where a black-market 'smart' pill enables users to access the 80 per cent of their brain usually off limits. Bradley Cooper headlines as scraggy would-be author Eddie Morra. Dumped by his girlfriend, stumped by his book and sporting one terrible barnet, Morra's going nowhere until a single hit of experimental 'NTZ' gives him a life-changing makeover. But these things always come at a price.

Read the Full Movie Review at TotalFilm.com
Movie Review from Hollywood.com

Most drug movies glamorize the use and/or distribution of narcotics before telling the ugly truth about the addiction or jail time that follows and the shady figures that inhabit society's underbelly. Taking characters from point A to point B and, finally, to their lowest point is a formulaic but effective storyline that shows how substance abuse destroys lives. It worked for Blow, Scarface and The Basketball Diaries, but in Limitless, director Neil Burger ignores that successful blueprint and essentially says, "Do drugs, kids! They'll help you! And don't worry, it'll all work out in the end!"

Read the Full Movie Review at Hollywood.com
Movie Review from Guardian.co.uk

Bradley Cooper continues his eerily bland metamorphosis into early-70s Robert Redford in this entertaining Manhattan thriller, a little like the Daniel Keyes story Flowers for Algernon. And as executive producer and star, Cooper makes sure we never lack for unobstructed closeup views of his lovely chops. He plays loser and no-hoper Eddie Morra; once a promising writer, Eddie has blown the advance on his first novel by drinking and goofing off. His publisher girlfriend Lindy (Abbie Cornish) leaves him and just when his life hits rock-bottom.

Read the Full Movie Review at Guardian.co.uk
Movie Review from TimeOut.com

Do you like to leave the cinema feeling like someone's been slagging you off from the back row? Then 'Limitless' could be for you. It's a colourful, brutally nihilistic takedown of all the things most of us hold sacred (love, art, religion, politics) and some of the things we don't (pharmaceuticals, economics and those who work in pharmaceuticals and economics). Bradley Cooper excels as Eddie Morra, an obsessive character with a million-dollar smile who we meet as an under-motivated New York author and leave as a politician running for high office.

Read the Full Movie Review at TimeOut.com
Movie Review from Movies.com

This movie, directed by The Illusionist's Neil Burger, is a fun, stylistic flick that seems like something Slumdog Millionaire director Danny Boyle would do if he wanted to make a D.A.R.E. commercial. With super-charged color correction that makes everyone's blue eyes sear into your soul and brain-bending effects, this film had me totally engaged the entire time. Even the pill is sexy, people. It's not just some bland, oblong, so 2009 pill that we're talking about. It looks like a tiny speck of hardened angel spit, destined to improve your life.

Read the Full Movie Review at Movies.com
Movie Review from Telegraph.co.uk

Nothing about Limitless is quite as brilliant as its teaser marketing. If you've been on the London Underground lately and seen adverts for something called The Clear Pill, purporting to unlock your full intellectual potential, you may or may not have read the small print (side effects may include: paralysis, psychosis, sudden death). The gimmick works because Bradley Cooper looks exactly like the guys on all those self-improvement ads, and that's partly why the film works, too.

Read the Full Movie Review at Telegraph.co.uk
---
'Limitless' Stars
Abbie Cornish, Andrew Howard, Anna Friel, Bradley Cooper, Johnny Whitworth, Neil Burger, Robert De Niro
---
'Limitless' Movie Links

Official Limitless Movie Website


Limitless on IMDb


Limitless on Wikipedia