---
Beverly Hills Chihuahua (2008)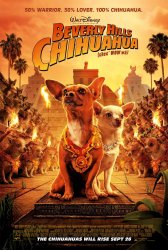 Starring: Salma Hayek, Drew Barrymore, Piper Perabo, Jamie Lee Curtis, Andy Garcia, Nick Zano, Cheech Marin
Director: Raja Gosnell
Release Date:

October 3rd, 2008
Release Date:

16th January, 2009
Synopsis: Chloe, a diamond-clad, bootie wearing Beverly Hills Chihuahua enjoys her luxurious lifestyle so much, she hardly notices Papi, a tough looking Chihuahua who happens to be head-over-paws for the pampered pooch. But when Chloe gets lost in the rough streets of Mexico with only a street-wise German Shepherd to help her find her way home, Papi heads south of the border, joining forces with a motley crew: two humans, a sly rat and a nervous iguana, to rescue his true love.
Status:
Beverly Hills Chihuahua Movie Trailer
About the Movie
Beverly Hills Chihuahua is a 2008 comedy film by Walt Disney Pictures. It is directed by Raja Gosnell and released on October 3, 2008. The plot centers around a Chihuahua, Chloe, who gets dognapped in Mexico and has to escape from an evil Doberman, El Diablo, with help from a lonely German Shepherd, Delgado, and a hyperactive male Chihuahua, Papí, who has a desperate crush on her.
---
Movie Reviews
Movie Review by Marty Meltz
Quality – 7 out of 10
Generally cute and light for the kids with reasonable aspirations to draw in mom and dad with lots of clever lines. The concepts are reasonably ambitious but do not always sustain attention over the long run.
The real eye-opener in "Beverly Hills Chihuahua" is the astonishing perfection in the talking animal technique, something which in itself is a marvel to behold. This does allow adults and animals to circulate within their own realities seamlessly, virtually giving the animals equal, if not greater, life and spirit. And importance. This being accepted, it's now up to the plot, with equal energy coming from human and nonhuman. The pervading theme of acceptance of interracial union is handled adroitly. Although of equal energy, it's the dogs that are the stars. (Can you believe what this involved at production? — 60 trainers handling 200 dogs and various other animals?)
Of considerable help to the film is Drew Barrymore's voice of Chloe who harbors a benignly condescending racism as to Mexicans and is forever polite and graceful to all. Indeed, although of equal technical quality, the overall sharpness of the animals' wit betters their human overseers. The film is held back only by the ordinariness of the theme messages about self-esteem and friendship loyalty.
Chloe (voice of Drew Barrymore) is a super-pampered Beverly Hills Chihuahua. Living in luxury and pampering untold, Chloe wears pink leather booties, a Harry Winston diamond collar, and a frilly pink skirt, fashion caps and sunglasses. We join her as she comes upon her Poodle, Pug and Chinese Crested doggie buddies at the beauty parlour and they discuss fashion and other relevant topics. She will also get together with them in a rather fanciful bikinis-by-the-pool scene, this within her scenario consisting of a lotus pond, gazebo and manicured garden. She is indeed so enamored by her life of luxury that she is not even aware of the amorous inclinations of admirer Papi (voice of George Lopez), a tough looking Chihuahua who belongs to Sam (Manolo Cardona), the landscape gardener.
When Chloe's loving owner Vivian (Jamie Lee Curtis) heads off to Europe on business, Chloe is left in the care of her niece Rachel (Piper Perabo) who is not very keen on this new responsibility. When Rachel now takes a spontaneous trip to Mexico with friends and Chloe, she's not very mindful, and poor little Chloe gets lost in the mean side of town. Fortunately, she's able to find an improbable friend in the street-smart German Shepherd Delgado (voice of Andy Garcia) who will try to help her get back home.
Meanwhile, to the rescue comes Papi who joins two human allies (Piper Perabo and Manola Cardona) down into Mexico along with a sly rat (voice of Cheech Marin) and a nervous iguana (voice of Paul Rodriguez) to rescue his sweetheart.
Script-wise, it is Delgado who is the most challenging to make credible. Initially, he is wary of Chloe and the motives for his caution, based upon his secret history, gradually unfold quite convincingly.
Of many cute insertions, the gay pug is choice.
The subtleties in the re-joining of the human couple may fly over the heads of the kids but there's nothing in the film that's heavy. Too much seriousness of relationship, in fact, would have upset the film's magic.
Actually, the only thing having the feel of fancy is that the dogs' facial expressions never stop.

Read More Movie Reviews at Marty at the Movies
---
'Beverly Hills Chihuahua' Stars
Andy Garcia, Cheech Marin, Drew Barrymore, Jamie Lee Curtis, Nick Zano, Piper Perabo, Raja Gosnell, Salma Hayek
---
'Beverly Hills Chihuahua' Movie Links

Beverly Hills Chihuahua on IMDb