---
Going the Distance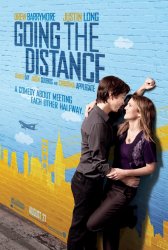 Starring: Drew Barrymore, Justin Long, Christina Applegate, Charlie Day, Ron Livingston, Kristen Schaal
Director: Nanette Burstein
Release Date:

September 3rd, 2010
Release Date:

27th August, 2010
Synopsis: Garrett is still nursing the wounds from a recent breakup when he meets Erin, an unflinchingly honest girl with a big talent for bar trivia. Hitting it off immediately, the pair spend a romantic summer together in New York City. It was supposed to be a summer fling, but as fall approaches and Erin returns to San Francisco, the spark is still there.
Status:
Going the Distance Movie Trailer
About the Movie
Going the Distance is an upcoming romantic comedy film directed by Nanette Burstein to be released on September 2, 2010. The movie began filming in New York City in July 2009. The film stars real life couple Justin Long and Drew Barrymore.
---
Movie Reviews
Movie Review from EmpireOnline.com

Given the plastic standard of many 2010 rom-coms — step forward Valentine's Day, The Back-Up Plan, When In Rome — Going The Distance feels even more like a breath of fresh air, casting it in the mantle of this year's (500) Days Of Summer as a quirky, entertaining lovefest you can get behind. It may not shake all its movie-movie roots, but it gives the impression of having one foot in real life, real relationships and real romantic dilemmas.
Most of this quality of recognition comes from Geoff La Tulippe's script, a former entry on the Black List, Hollywood's run-down of hottest unproduced screenplays. There is no crazy meet-cute — our couple bond over the Caterpillar arcade game and Top Gun — and no overwrought plot machinations to break them up/get them back together again.

Read the Full Movie Review at EmpireOnline.com
Movie Review from TotalFilm.com

After sharing celluloid with a crowded ensemble in He's Just Not That Into You, real-life couple Drew Barrymore and Justin Long get more time to themselves in this, their second moviedate.
He's Garrett, a lowly A&R man. She's Erin, a student wannabe journalist. They meet in New York and spend six glorious weeks together. But she must return to San Francisco to study.
Will they make their coast-to-coast relationship work? Will they indeed 'go the distance'?
From the corny 'see what we did there?' title to a plot that's as predictable as a transatlantic flight-path, this is a truly join-the-dots romcom.

Read the Full Movie Review at TotalFilm.com
---
'Going the Distance' Stars
Charlie Day, Christina Applegate, Drew Barrymore, Justin Long, Kristen Schaal, Nanette Burstein, Ron Livingston
---
'Going the Distance' Movie Links

Official Going the Distance Movie Website


Going the Distance on IMDb