---
Youth in Revolt (2009)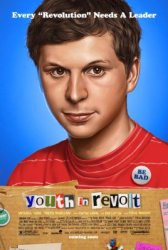 Starring: Michael Cera, Justin Long, Steve Buscemi, Ray Liotta, Jean Smart, Fred Willard
Director: Miguel Arteta
Release Date:

January 8th, 2010
Release Date:

5th February, 2010
Synopsis: When a murder of a physicist, Leonardo Vetra, finds a symbolist, Robert Langdon, and Mr. Vetra's daughter, Vittoria, on an adventure for a secret brotherhood, The Illuminati. Clues lead them all around the Vatican, including the four alters of science, Earth, Air, Fire and Water. An Assassin working for the Illuminati, have captured four cardinals, and murders each, painfully. Robert and Vittoria also are searching for a new very destructive weapon that could kill millions.
Status:
Youth in Revolt Movie Trailer
About the Movie
Youth in Revolt is the 2009 American feature film adaptation of C.D. Payne's epistolary novel of the same name about a cynical sex-obsessed 16-year-old's pining love for an intelligent girl and the things that stand in his way, including his ignorant divorced parents, his mom's boyfriends, and the boy the girl still likes. Youth in Revolt is set to be released on October 30, 2009.
---
Movie Reviews
Movie Review from EmpireOnline.com

Back in 2006, when Michael Cera was cast as Nick Twisp in Dimension Films' adaptation of C. D. Payne's epic 1993 coming-of-age novel, Youth In Revolt, it was, he said, a dream come true — the chance to portray a cult hero of US teen fiction who was "exactly like me! This kid with the cynical world-view of an old man!"
Although ultra-absurdist, over-literate and pathologically priapic, Payne's 500- page picaresque was ideal adaptation material because no matter how ludicrous Twisp's misadventures became, they were all in the service of a classic teen dilemma: how far should a nice guy go to win over someone who's tired of nice guys? Who knew that in 2010, Twisp's dilemma would perfectly mirror Cera's own?

Read the Full Movie Review at EmpireOnline.com
Movie Review from TotalFilm.com

Thanks to Arrested Development, Superbad et al, Michael Cera is the poster boy for geek-chic awkwardness.
On the evidence of this coming-of-age comedy, it doesn't look like he's giving up that payday schtick anytime soon. But after the turkey that was Year One, at least the lad is back on his game as apathetic teen virgin Nick Twisp, who hopes to pop his cherry and escape life with Ma (Jean Smart) and her oik boyfriend (Zach Galifianakis).

Read the Full Movie Review at TotalFilm.com
---
'Youth in Revolt' Stars
Fred Willard, Jean Smart, Justin Long, Michael Cera, Miguel Arteta, Ray Liotta, Steve Buscemi
---
'Youth in Revolt' Movie Links

Official Youth in Revolt Movie Website


Youth in Revolt on IMDb