---
Scott Pilgrim vs. the World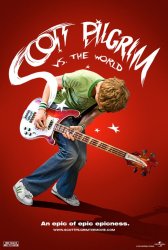 Starring: Michael Cera, Alison Pill, Mark Webber, Johnny Simmons, Ellen Wong, Kieran Culkin
Director: Edgar Wright
Release Date:

August 13th, 2010
Release Date:

25th August, 2010
Synopsis: Scott Pilgrim's life is so awesome. He's 23 years old, in a rock band, "between jobs," and dating a cute high school girl. Everything's fantastic until a seriously mind-blowing, dangerously fashionable, roller blading delivery girl named Ramona Flowers starts cruising through his dreams and sailing by him at parties. But the path to Ms. Flowers isn't covered in rose petals. Ramona's seven evil exes stand between Scott and true happiness. Can Scott defeat all seven of the bad guys and get the girl without turning his precious little life upside-down, before the game is over?
Status:
Scott Pilgrim vs. the World Movie Trailer
About the Movie
Scott Pilgrim vs. the World is an 2010 American action comedy film directed by Edgar Wright based on the comic book series Scott Pilgrim by Bryan Lee O'Malley. The film is about Scott Pilgrim (Michael Cera) meeting the girl of his dreams, Ramona Flowers (Mary Elizabeth Winstead). In order to win Ramona over, Scott learns that he must defeat Ramona's seven evil exes, who are coming to kill him.
Scott Pilgrim vs. the World was planned as a film after the first volume of the comic was released. Director Wright became attached to the program and began filming in March 2009 in Toronto, Ontario. Scott Pilgrim vs. the World premiered after a panel discussion at the San Diego Comic-Con International on July 22, 2010. It was released in Australia and New Zealand on August 12, 2010, and North America the following day.
---
Movie Reviews
Movie Review from EmpireOnline.com

Here's another great film of 2010 which takes place partly – or possibly entirely – within the leading man's head. Scott Pilgrim, however, is a more feverish film than Christopher Nolan's stately action movie, this one jittery with caffeine and high on the cluelessness of youth. Does Scott Pilgrim know what he's doing? Absolutely not. But he may learn more, and figure out more, than Dom Cobb ever managed.
Edgar Wright's film opens with a flickering assault of neon-bright, acid-scrawled titles accompanied by a blast of noise. If this assault on the senses is too much, leave at once, because while the following film has a wonderfully real-world sensibility at times, full of inept characters whose attempts at witty repartee just keep falling flat, it's also punctuated by bursts of day-glo action, each fight an excuse to delve into a new arcade game style and deliver another burst of music.

Read the Full Movie Review at EmpireOnline.com
Movie Review from TotalFilm.com

Scott Pilgrim is a weakling, doesn't drink, rarely gets a haircut, only wears his favourite T-shirts. If you just read your own bio, this is your new favourite movie.
Adapted from Brian O'Malley's comic-book saga with breakneck stylistic verve by Edgar Wright, Scott Pilgrim Vs The World is the ultimate geek wish-fulfilment flick.
There are no size-zero superhotties here, just girls who are freckled and fleshy. The good-looking guys are evil, the good guys are limp and loveable.
It's a place where chicks who don't want to know you suddenly invite you into bed. A place where you're the invincible kick-ass hero.

Read the Full Movie Review at TotalFilm.com
Movie Review from Hollywood.com

The romantic action comedy Scott Pilgrim vs. the World is like nothing — and, if you're a person between the age of approximately 18 to 35, everything — you've seen before. British director Edgar Wright's (Shaun of the Dead, Hot Fuzz) adaptation of Bryan Lee O'Malley graphic novel is so densely laden with pop-culture references it often times feels less like a movie than a mixtape. Those who share the tastes of the film's 31-year-old writer and 35-year-old director will find the experience to be exhilarating; those who don't, however, will likely be at a loss to comprehend what all the fuss is about.

Read the Full Movie Review at Hollywood.com
Movie Review from Guardian.co.uk

Edgar Wright takes the ache out of "achingly cool" with his entertaining, hyperactive gamer-geek comedy Scott Pilgrim Vs the World, set in freezing cold Toronto and based on the graphic novel series by Bryan Lee O'Malley. Despite riffing on some apparently emotional themes – male romantic status-anxiety is brought interestingly into parallel with Canada's cultural cringe to the United States – Wright insists on nothing more than comedy and the spectacle of pastiche, an entertainment of Seinfeldian inconsequence. The movie has been attacked in some quarters for lack of heart, and for an alleged lack of box office nous in pitching to a demographic that favours illegal downloads over ticket-buying. I can only say that where some see shallowness, I saw a witty interplay of surfaces and style.

Read the Full Movie Review at Guardian.co.uk
Movie Review from TimeOut.com

'Scott Pilgrim vs the World' might be a US studio movie and have cost more than three times the combined budgets of 'Hot Fuzz' and 'Shaun of the Dead', but for British director Edgar Wright it's no huge leap from 'Spaced', the '90s TV series which made his name, to this. Like 'Spaced', 'Scott Pilgrim' trades in the messy lives of twentysomething slackers and springs from the world of the comic book. The characters in 'Spaced' often felt like they tripped off the pages of a graphic novel (and Simon Pegg's Tim was a fledgling comic artist), while the original Scott Pilgrim was the hero of a six-volume Canadian comic-book series published between 2004 and this year.

Read the Full Movie Review at TimeOut.com
Movie Review from Movies.com

After demonstrating a talent for witty direction and pop culture savvy in his previous movies Shaun of the Dead and Hot Fuzz, director Wright proves himself an expert technician with Scott Pilgrim vs. the World, surely one of the most visually dense pieces of pop cinema ever made. Thoughts dissolve into dreamy asides, villains explode into showers of coins, animated hearts dance across the screen when characters kiss, all in a nonstop flurry of graphics and 8-bit sound effects that create Scott Pilgrim's unique fantasy world. And if you're not too distracted by everything Wright throws at the screen, you might even feel a thing or two about Scott's love 'em and leave 'em romantic crisis of conscience.

Read the Full Movie Review at Movies.com
Movie Review from Telegraph.co.uk

Earlier this week, an English journalist claimed Jonathan Franzen's soon-to-be published Freedom as the novel of the century. A ludicrous accolade, not least because it should more rightly go to Korean-Canadian writer Bryan Lee O'Malley's Scott Pilgrim comic-book series.
In six volumes, the first of which appeared in 2004, he presents the funniest, most touching and most imaginative depiction of the romantic travails of a 23-year-old bass player from Toronto ever to have appeared in print. Pilgrim, named after a song by the all-girl band Plumtree, is a dreamer and a doofus, a half-arsed slacker who is handed a challenge by Ramona Flowers, the flame-haired, internet-book delivering girl with whom he's smitten: defeat my seven evil exes if you wish to date me!

Read the Full Movie Review at Telegraph.co.uk
---
'Scott Pilgrim vs. the World' Stars
Alison Pill, Edgar Wright, Ellen Wong, Johnny Simmons, Kieran Culkin, Mark Webber, Michael Cera
---
'Scott Pilgrim vs. the World' Movie Links

Official Scott Pilgrim vs. the World Movie Website


Scott Pilgrim vs. the World on IMDb