---
Big Mommas: Like Father, Like Son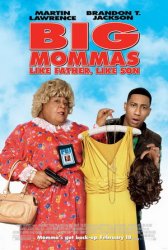 Starring: Ana Ortiz, Martin Lawrence, Brandon T. Jackson, Portia Doubleday, Max Casella, Jessica Lucas
Director: John Whitesell
Release Date:

February 18th, 2011
Release Date:

16th February, 2011
Synopsis: FBI agent Malcolm Turner and his 17-year-old son, Trent, go undercover at an all-girls performing arts school after Trent witnesses a murder. Posing as Big Momma and Charmaine, they must find the murderer before he finds them.
Status:
Big Mommas: Like Father, Like Son Movie Trailer
About the Movie
Big Mommas: Like Father, Like Son (also known as Big Momma's House 3) is an upcoming 2011 crime comedy film directed by John Whitesell and written by Matthew Fogel and Don Rhymer. The film is the second sequel to Big Momma's House (2000) and starring Martin Lawrence reprising his role as FBI agent Malcolm Turner. Jascha Washington declined to reprise his role as Trent Pierce from the first two films, and Brandon T. Jackson replaced him for his role. It is scheduled to be released on February 18, 2011. This is the first Big Momma film to be presented in 2.35:1 widescreen.
---
'Big Mommas: Like Father, Like Son' Stars
Ana Ortiz, Brandon T. Jackson, Jessica Lucas, John Whitesell, Martin Lawrence, Max Casella, Portia Doubleday
---
'Big Mommas: Like Father, Like Son' Movie Links

Big Mommas: Like Father, Like Son on IMDb