---
Buried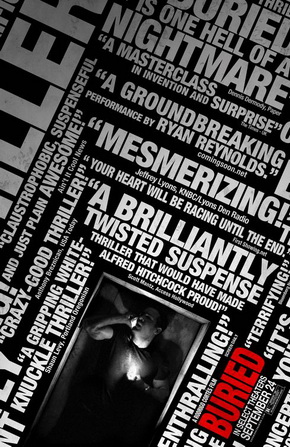 Starring: Ryan Reynolds, José Luis García Pérez, Robert Paterson, Stephen Tobolowsky, Samantha Mathis, Ivana Miño
Director: Rodrigo Cortés
Release Date:

September 24th, 2010
Release Date:

29th September, 2010
Synopsis: Paul is a U.S. contractor working in Iraq. After an attack by a group of Iraqis he wakes to find he is buried alive inside a coffin. With only a lighter and a cell phone it's a race against time to escape this claustrophobic death trap.
Status:
About the Movie
Buried is an upcoming Spanish indie thriller film directed by Rodrigo Cortes. It stars Ryan Reynolds, Anne Lockhart and Ivana Miño.
---
Movie Reviews
Movie Review from EmpireOnline.com

"The true wretchedness," says the unnamed narrator of Edgar Allan Poe's short story The Premature Burial, "is to be buried while alive." After experiencing this deeply unsettling thriller from Rodrigo Cortés, you'll be likely to agree. It's not the first time a director has sealed a character in a pine death-trap — most famously, Quentin Tarantino did it in both Kill Bill and CSI — but Cortés takes the idea to its most extreme limits. For the entire 94-minute running time, the camera doesn't leave the box.

Read the Full Movie Review at EmpireOnline.com
Movie Review from TotalFilm.com

There's an apt story about the making of man-in-a-box thriller Phone Booth. "I love it," said an anonymous exec, "now, how do we get the film out of that damn box?" As unyielding as the coffin it takes place in, Buried offers no such respite. From Poe to Tarantino, Dante's Inferno to Wes Craven's The Serpent And The Rainbow, premature burial has a stellar fictional pedigree, but no one's had the stones to go this far before. With little more than one actor, a mobile phone, a (very full) Zippo and a few disembodied voices, director Rodrigo Cortés has created a 95-minute panic-attack-made-movie.

Read the Full Movie Review at TotalFilm.com
Movie Review from Hollywood.com

Buried stars Ryan Reynolds as Paul Conroy, a contract truck driver in Iraq who, much to his own surprise, wakes up from within the confines of an old wooden coffin buried an indeterminate depth underground. He doesn't immediately know who has kidnapped him or what he can do to try and get out; all he knows is that the clock is ticking and unless he can reach the outside world he is going to suffer a horrible death. By most measures of common sense, Buried should not be, as a whole, the harrowing film it is.

Read the Full Movie Review at Hollywood.com
Movie Review from Guardian.co.uk

Some worry that mobile phones, by abolishing isolation and jeopardy, are killing off the modern thriller, or at least slowing it down with the obligatory, laborious dialogue: "No signal!" – "Whaddaya mean no signal?" – "I mean I can't get a signal!" etc. Well, here's a new thriller that couldn't have existed in the pre-cellphone age. This extraordinary high-concept, high-anxiety, low-budget nightmare from Spanish director Rodrigo Cortés is guaranteed to give everyone suffering claustrophobia a permanent nervous breakdown.

Read the Full Movie Review at Guardian.co.uk
Movie Review from TimeOut.com

The urge for up-and-coming Hollywood pretty boys to prove their dramatic chops has led to bizarre career U-turns for everyone from Jerry Lewis to Ashton Kutcher, and now it's the turn of newly minted A-lister Ryan Reynolds, who filled in time between flirting with Sandra Bullock in 'The Proposal' and slipping on the emerald tights for forthcoming superhero epic 'Green Lantern' by making an entire movie in a seven-by-three-foot box. Reynolds plays Paul Conroy, a US contractor ambushed in Iraq who wakes to find himself six feet underground with only a cellphone and a Zippo.

Read the Full Movie Review at TimeOut.com
Movie Review from Movies.com

What I like most about this is that it's really a horror movie about cell phones. And not the ha-ha-bad One Missed Call kind. He loses bars, calls get dropped, he gets sent to automatic voicemail or to underlings with no concern for or even belief in his situation. He encounters almost every problem you can have with modern communication so his shared experience of this universal frustration is what will keep you pulled along with the plot much more effectively than trying to imagine yourself buried alive.

Read the Full Movie Review at Movies.com
---
'Buried' Stars
Ivana Miño, José Luis García Pérez, Robert Paterson, Rodrigo Cortés, Ryan Reynolds, Samantha Mathis, Stephen Tobolowsky
---
'Buried' Movie Links

Official Buried Movie Website


Buried on IMDb