---
Cemetery Junction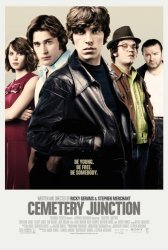 Starring: Christian Cooke, Tom Hughes, Jack Doolan, Felicity Jones, Ralph Fiennes, Emily Watson, Matthew Goode, Ricky Gervais
Director: Ricky Gervais, Stephen Merchant
Release Date:

14th April, 2010
Synopsis: In 1970s England, three blue-collar friends spend their days joking, drinking, fighting and chasing girls. Freddie wants to leave their working-class world but cool, charismatic Bruce and lovable loser Snork are happy with life the way it is. When Freddie gets a new job as a door-to-door salesman and bumps into his old school sweetheart Julie, the gang are forced to make choices that will change their lives for ever.
Status:
Cemetery Junction Movie Trailer
About the Movie
Cemetery Junction is an upcoming film written and directed by Ricky Gervais and Stephen Merchant. Principal photography began on 15 June 2009, and the film is set to be released in the United Kingdom on 14 April 2010.
The film was originally titled The Man from the Pru, a colloquial term (and later an advertising slogan) for agents of the Prudential insurance company. During the writing of the film, the Prudential allowed Gervais and Merchant to use their archives for research. However, after reading the finished script, the company decided it was not pleased with how the company were to be portrayed in the film and decided not to allow their name to be used. The new title comes from the name of the Cemetery Junction in the New Town district of the town of Reading, Berkshire where the film takes place. The Prudential's United Kingdom headquarters are in Reading.
Filming locations included Taylors Bell Foundry and the Great Central Railway both in Loughborough. An extended trailer was broadcast on Channel 4 on 31 January 2010.
---
'Cemetery Junction' Stars
Christian Cooke, Emily Watson, Felicity Jones, Jack Doolan, Matthew Goode, Ralph Fiennes, Ricky Gervais, Stephen Merchant, Tom Hughes
---
'Cemetery Junction' Movie Links

Cemetery Junction on IMDb