---
The Invention of Lying (2009)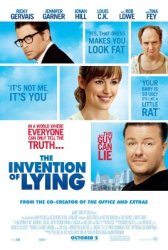 Starring: Ricky Gervais, Tina Fey, Jennifer Garner, Jason Bateman, Jonah Hill, Dreama Walker, Rob Lowe, Patrick Stewart
Director: Ricky Gervais, Matthew Robinson
Release Date:

October 2nd, 2009
Release Date:

2nd October, 2009
Synopsis: The Invention of Lying takes place in an alternate reality in which lying, even the concept of a lie, does not even exist. Everyone, from politicians to advertisers, to the man and woman on the street speaks the truth, and nothing but the truth, with no thought of the consequences. But when a down-on-his-luck loser named Mark suddenly develops the ability to lie, he finds that dishonesty has its rewards. In a world where every word is assumed to be the absolute truth, Mark easily lies his way to fame and fortune. But lies have a way of spreading, and Mark begins to realise that things are getting a little out of control when some of his tallest tales are being taken as gospel. With the entire world now hanging on his every word, there is only one thing Mark has not been able to lie his way into: the heart of the woman he loves.
Status:
The Invention of Lying Movie Trailer
About the Movie
The Invention of Lying is a comedy film directed by Ricky Gervais and Matthew Robinson, from their own script. The film was originally being produced under the title This Side of the Truth, but Gervais announced on his blog in April 2009 that the title had indeed been changed, reversing a previous assertion he had made to the contrary several weeks earlier.
The film is set on an alternate Earth where no one has ever lied, and stars Gervais as a performer who tells the world's first lie, coming to wield its power for personal gain.
Gervais describes his character as someone who "works in the film industry, where actors are really readers who tell completely factual stories he's lumbering through the 1300s. All he's got to work with is the Black Death. But once he lies and pretends he's found lost stories, he becomes the greatest storyteller in the world."
The film was financed by Media Rights Capital and started shooting in Lowell, Massachusetts in April 2008. The film completed principal photography in early June 2008, and is now in post-production. Warner Bros. owns the rights for the film's North American distribution, while Universal Pictures owns the rights to release the film outside of North America.
---
'The Invention of Lying' Stars
Dreama Walker, Jason Bateman, Jennifer Garner, Jonah Hill, Matthew Robinson, Patrick Stewart, Ricky Gervais, Rob Lowe, Tina Fey
---
'The Invention of Lying' Movie Links

The Invention of Lying on IMDb