---
Cloudy with a Chance of Meatballs (2009)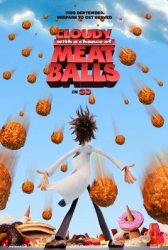 Starring: Anna Faris, Bill Hader, Bruce Campbell, Andy Samberg, James Caan, Mr. T, Tracy Morgan
Director: Phil Lord, Chris Miller
Release Date:

September 18th, 2009
Release Date:

18th September, 2009
Synopsis: Flint Lockwood thinks he's a genius. But none of the things he invented are things that make sense or are useful. However, he has the support of his mother but when she dies, he's left alone with his father who thinks he should give it up. When the community that he lives in, is in an economic crisis because their primary source of income a sardine cannery was shut down, Flint decides to try his latest invention, a machine that can turn water into food. But something goes wrong and the machine ends up in the atmosphere. Later it starts raining food.
Status:
Cloudy with a Chance of Meatballs Movie Trailer
About the Movie
Cloudy with a Chance of Meatballs is a 2009 computer-animated film produced by Sony Pictures Animation and distributed by Columbia Pictures. It is scheduled for a theatrical release on September 18, 2009 and is inspired by the children's book of the same name by Judi Barrett and Ron Barrett. The film will be released in "mouth watering" 3-D.
It is Sony Pictures Animation's third film, not counting Open Season 2, a direct-to-video film.
Whereas the book had one speaking character and a loose narrative, the film introduces new main characters, and explains the origins of the unusual weather in the town of Chewandswallow.
---
'Cloudy with a Chance of Meatballs' Stars
Andy Samberg, Anna Faris, Bill Hader, Bruce Campbell, Chris Miller, James Caan, Mr. T, Phil Lord, Tracy Morgan
---
'Cloudy with a Chance of Meatballs' Movie Links

Official Cloudy with a Chance of Meatballs Movie Website


Cloudy with a Chance of Meatballs on IMDb