---
Hotel Transylvania (2012)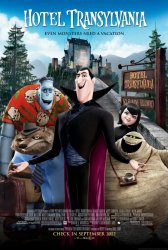 Starring: Adam Sandler, Andy Samberg, Selena Gomez, Kevin James, Fran Drescher, Steve Buscemi
Director: Genndy Tartakovsky
Release Date:

September 28th, 2012
Release Date:

12th October, 2012
Running Time: 91 Mins
Synopsis: Dracula, who operates a high-end resort away from the human world, goes into overprotective mode when a boy discovers the resort and falls for the count's teen-aged daughter.
Status:
titlexxx - Hotel Transylvania Movie Trailer
About the Movie
Hotel Transylvania is a 2012 American computer-animated comedy film produced by Sony Pictures Animation and distributed by Columbia Pictures. It was directed by Genndy Tartakovsky, the creator of Samurai Jack, Dexter's Laboratory, and Sym-Bionic Titan, and produced by Michelle Murdocca. The film features the voices of Adam Sandler, Selena Gomez, Andy Samberg, Kevin James, Fran Drescher, Jon Lovitz, Cee Lo Green, Steve Buscemi, Molly Shannon and David Spade.
The film tells a story of Dracula, the owner of Hotel Transylvania, where the world's monsters can take a rest from human civilization. Dracula invites some of the most famous monsters, including Frankenstein's monster, Mummy, a Werewolf family, and the Invisible Man, to celebrate the 118th birthday of his daughter Mavis. When the hotel is unexpectedly visited by an ordinary young traveler named Jonathan, Dracula must protect Mavis from falling in love with him before it is too late.
Released on September 28, 2012, the film was met with mixed critical reception, while the audience received it very favourably. Despite mixed reviews, Hotel Transylvania set a new record for the highest-grossing September opening weekend, and earned a total of $110,667,994 on a budget of $85 million.
---
'Hotel Transylvania' Stars
Adam Sandler, Andy Samberg, Fran Drescher, Genndy Tartakovsky, Kevin James, Selena Gomez, Steve Buscemi
---
'Hotel Transylvania' Movie Links

Official Hotel Transylvania Movie Website


Hotel Transylvania on IMDb


Hotel Transylvania on Wikipedia