---
Igor (2008)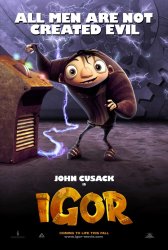 Starring: John Cusack, Steve Buscemi, John Cleese, Jennifer Coolidge, Arsenio Hall, Sean Hayes, Eddie Izzard, Jay Leno, James Lipton, Molly Shannon, Christian Slater
Director: Anthony Leondis
Release Date:

September 19th, 2008
Release Date:

17th October, 2008
Synopsis: A hilarious twist on the classic monster movie, "Igor" tells the story of one Igor who's sick of being a lowly lab assistant with a Yes Master's degree and dreams of becoming a scientist. When his cruel master kicks the bucket a week before the annual Evil Science Fair, Igor finally gets his chance.
Status:
About the Movie
Igor is a 2008 computer animated comedy film involving a humorous take on the stock character Igor. The plot revolves around the grotesque title figure Igor and his dreams of winning first place at the Evil Science Fair. The movie was released on September 19, 2008. The film features the voice talents of John Cusack as the title character, and John Cleese, Lexi Slapp, Jennifer Coolidge, Arsenio Hall, Sean Hayes, Eddie Izzard, Jay Leno, Molly Shannon, Christian Slater and Steve Buscemi. The film was considered a financial blip, grossing just $30m worldwide out of its $25m budget, although this made the film profitable.
---
'Igor' Stars
Anthony Leondis, Arsenio Hall, Christian Slater, Eddie Izzard, James Lipton, Jay Leno, Jennifer Coolidge, John Cleese, John Cusack, Molly Shannon, Sean Hayes, Steve Buscemi
---
'Igor' Movie Links

Igor on IMDb