---
Reservoir Dogs (1992)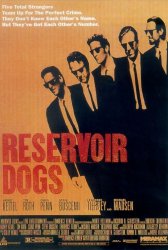 Starring: Harvey Keitel, Tim Roth, Michael Madsen, Chris Penn, Steve Buscemi, Lawrence Tierney
Director: Quentin Tarantino
Release Date:

October 23rd, 1992
Release Date:

15th January, 1993
Synopsis: Six criminals, who are strangers to each other, are hired by a crime boss Joe Cabot to carry out a diamond robbery. Right at the outset, they are given false names with an intention that they won't get too close and concentrate on the job instead. They are completely sure that the robbery is going to be a success. But when the police show up right at the time and the site of the robbery, panic spreads amongst the group members and one of them is killed in the subsequent shootout along with a few policemen and civilians. When the remaining people assemble at the premeditated rendezvous point, they begin to suspect that one of them is an undercover cop.
Status:
Reservoir Dogs Movie Trailer
About the Movie
Reservoir Dogs is a 1992 crime film that is the debut film of director and writer Quentin Tarantino. It depicts the events before and after a botched jewel heist, though not the heist itself. Reservoir Dogs stars an ensemble cast with Harvey Keitel, Steve Buscemi, Tim Roth, Michael Madsen, Quentin Tarantino, Chris Penn and Lawrence Tierney. Tarantino has a minor role, as does criminal-turned-author Eddie Bunker. It incorporates many themes and aesthetics that have become Tarantino's hallmarks: violent crime, pop culture references, memorable dialogue, profuse profanity, and a nonlinear storyline.
The film has become a classic of independent film and a cult hit. It was named "Greatest Independent Film of all Time" by Empire. Reservoir Dogs was generally well received and the cast was praised by many critics. Although it was never given much promotion upon release, the film was a modest success by grossing $2,832,029, which made its budget back. However, it did become a major hit in the United Kingdom; grossing nearly £6.5 million, and it achieved higher popularity after the success of Tarantino's Pulp Fiction. It is often criticized for its high degree of violence and profanity, and audience members reportedly walked out during the film's now notorious torture scene.
A soundtrack titled Reservoir Dogs: The Original Motion Picture Soundtrack was released featuring songs used in the film, mostly from the 1970s. In 2006, a video game was released to mediocre reviews. The video game—like the film—caused controversy for its violence.
---
'Reservoir Dogs' Stars
Chris Penn, Harvey Keitel, Lawrence Tierney, Michael Madsen, Quentin Tarantino, Steve Buscemi, Tim Roth
---
'Reservoir Dogs' Movie Links

Reservoir Dogs on IMDb