---
The Big Lebowski (1998)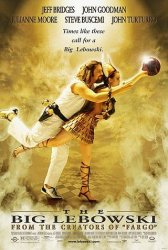 Starring: Jeff Bridges, John Goodman, Julianne Moore, Steve Buscemi, John Turturro, Philip Seymour Hoffman, Tara Reid, Peter Stormare
Director: Joel Coen
Release Date:

March 6th, 1998
Release Date:

1st May, 1998
Synopsis: When "The Dude" Lebowski is mistaken for a millionaire Lebowski, two thugs urinate on his rug to coerce him into paying a debt he knows nothing about. While attempting to gain recompense for the ruined rug from his wealthy counterpart, he accepts a one-time job with high pay-off. He enlists the help of his bowling buddy, Walter, a gun-toting Jewish-convert with anger issues. Deception leads to more trouble, and it soon seems that everyone from porn empire tycoons to nihilists want something from The Dude.
Status:
The Big Lebowski Teaser Trailer
About the Movie
The Big Lebowski is a 1998 American comedy film written and directed by Joel and Ethan Coen. Jeff Bridges stars as Jeffrey Lebowski, an unemployed Los Angeles slacker and avid bowler, who is referred to and also refers to himself as "The Dude".
The Dude is introduced to a multimillionaire also named Jeffrey Lebowski after a case of mistaken identity. When the millionaire Lebowski's trophy wife is later kidnapped, he commissions the Dude to deliver the ransom to secure her release. The plan goes awry when the Dude's friend Walter Sobchak (John Goodman) schemes to keep the full ransom sum. Steve Buscemi, Philip Seymour Hoffman, David Huddleston, Julianne Moore, Tara Reid and John Turturro star in the film, which is narrated by a cowboy known only as "Stranger," played by Sam Elliott. The film's structure has been compared to Raymond Chandler's novel The Big Sleep.
The original score was composed by Carter Burwell, a longtime collaborator of the Coen Brothers.
The movie was not an immediate commercial success (its budget was about US$15 million, and the film grossed US$17 million in the United States), but it received generally positive reviews from critics. The film, noted for its idiosyncratic characters, surreal dream sequences, unconventional dialogue, and eclectic soundtrack, has become a cult favorite and has been called "the first cult film of the Internet era." The film's devoted fans have spawned Lebowski Fest, an annual festival that started in Louisville, Kentucky in 2002 and has since expanded to several other cities.
---
'The Big Lebowski' Stars
Jeff Bridges, Joel Coen, John Goodman, John Turturro, Julianne Moore, Peter Stormare, Philip Seymour Hoffman, Steve Buscemi, Tara Reid
---
'The Big Lebowski' Movie Links

The Big Lebowski on IMDb