---
Fargo (1996)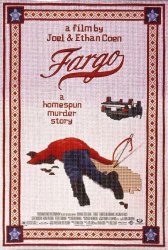 Starring: Frances McDormand, William H. Macy, Steve Buscemi, Harve Presnell, Peter Stormare
Director: Joel Coen
Release Date:

April 5th, 1996
Release Date:

31st May, 1996
Synopsis: Jerry Lundegaard is in a financial jam and, out of desperation, comes up with a plan to hire someone to kidnap his wife and demand ransom from her wealthy father, to be secretly split between Jerry and the perpetrators. Jerry, who is not the most astute of individuals, hires a couple of real losers from the frozen northern reaches of Fargo, North Dakota for the job. Then things begin to slip from bad to worse as Jerry helplessly watches on.
Status:
About the Movie
Fargo is a 1996 American dark comedy crime film produced, directed and written by brothers Joel and Ethan Coen. It stars Frances McDormand as a pregnant police chief who investigates a series of homicides, William H. Macy as a car salesman who hires two criminals to kidnap his wife, Steve Buscemi and Peter Stormare as the criminals, and Harve Presnell as the salesman's father-in-law.
The film earned seven Academy Award nominations, winning two for Best Original Screenplay for the Coens and Best Actress in a Leading Role for McDormand. It also won the British BAFTA Award and the Award for Best Director for Joel Coen at the 1996 Cannes Film Festival.
---
'Fargo' Stars
Frances McDormand, Harve Presnell, Joel Coen, Peter Stormare, Steve Buscemi, William H. Macy
---
'Fargo' Movie Links

Fargo on IMDb